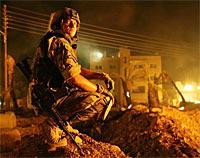 US director Kathryn Bigelow became the first woman to win the best director award at the BAFTAs for her Iraq war movie The Hurt Locker on Sunday night.
The movie about elite soldiers entrusted with the task of defusing bombs won six of the eight it was nominated for, winning the best film and director awards as well as awards for original screenplay, cinematography, editing and sound.
A visibly elated Bigelow said the award was "beyond our wildest imagination".
Her ex-husband James Cameron had to be content with two just awards -- special visual effects and production design -- for his 3D, computer-animated blockbuster Avatar.
The other big winners include Colin Firth, who won the best actor award for his role in A Single Man, and Carey Mulligan, who scooped the prize for best actress for An Education.