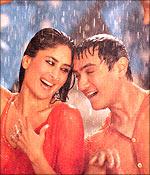 It looks like Aamir Khan wants to distance himself from the controversy that has erupted between the 3 Idiots team and writer Chetan Bhagat, on whose book Five Point Someone the film has been inspired from.
'Have been going through your responses post the CB (Chetan Bhagat) controversy. Some sincere and some insincere. The insincere ones I choose to ignore, but I am very keen to respond to those of you have had very sincere queries, questions and even assumptions,' Aamir wrote in his blog. 'I am very keen to present my side of the story, why I said what, why I feel what I feel, and what is the difference between a book and a screenplay, what I feel about ethics of this issue, fair play, morality etc. The whole gamut. I would also like to present some very interesting evidence.'
He added that he would not like to get embroiled in more controversy at the moment.
'The reason is, that first of all, I think that it is very important that we distance ourselves from this incident to be unemotional about it, me included. Only then will we be able to examine the merits of the case in an unbiased and clinical manner. I am a very emotional person and find it very difficult to be clinical, so for me distance is most important,' Aamir wrote.
3 Idiots has been inspired from Chetan Bhagat's best-selling book Five Point Someone. Producer Vidhu Vinod Chopra brought the rights of the book, and director Rajkumar Hirani co-wrote the screenplay, along with Abhijat Joshi.
Bhagat felt cheated, as he felt due credit was not given to him. He claimed that the story credit should go to him, and not Hirani and Joshi, as mentioned in the title credits.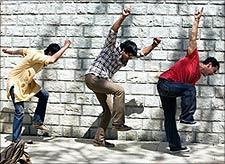 Last week, Aamir sided with the producers and faced brickbats from critics, who felt that producers should have given due credit to Chetan Bhagat.
Bhagat appeared quite upset on his blog, where he vented out his reasons for his anger. 'The public opinion is already there that the story resembles the book. We don't have to get into percentages, but if there is a contribution, it should be recognized,' Bhagat wrote.
'They don't have to actually change the prints running in the theatres or incur any costs there. They can change it in the official records and in the DVD/Satellite as possible,' Bhagat added.