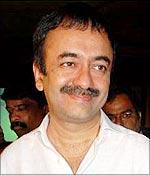 "Your value is decided by the percentages you score in school and college. That is what the education system does to us and that's what we wanted to show in the film," says Rajkumar Hirani, the director of 3 Idiots, the biggest blockbuster made by an Indian.
For the record, the film has raked in Rs 240 crore, gross, at the box office in the domestic and overseas markets so far and can expect more in the coming weeks. Hirani, on his part, admits that he can't believe the unprecedented response to the film from audiences and critics alike.
"Abhijat (Joshi, the film's co-writer) and I used to talk about our own school and college days and laugh about the teaching system. In fact, we had a common friend who ended up studying in a college on behalf of his friend," says Hirani. "In that sense we actually knew a real-life Rancho."
But what gave him the final idea for 3 Idiots ? "Chetan Bhagat's Five Point Someone was my inspiration," he adds quickly.
Bhagat, after the film's release, accused 3 Idiots' producer Vidhu Vinod Chopra and Hirani of not giving him due credit for the film. The debate soon turned into a full-scale war of words on national television channels and continues to flare up every now and then.
Hirani however insists that not more than 10 per cent of the film is the book. "Books and films are two different mediums. I can tell you for sure that 3 Idiots is not Five Point Someone just like Five Point Someone is not 3 Idiots," he says, firmly.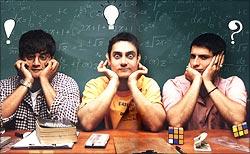 Speaking of controversies, there's also Harsh Agarwal, co-founder of the Coalition to Uproot Ragging from Education (CURE), who was upset with the "lighter sense in which ragging has been shown in 3 Idiots."
Hirani's response is measured. "There is no way I would support ragging. But then, no filmmaker supports murder or rape. Then why are they still shown on celluloid?"
Hirani, who studied editing at the Film and Television Institute of India, Pune, started out by creating and editing promos for Vidhu Vinod Chopra Films. His big break was editing Mission Kashmir on his own. His directorial debut in 2003, Munnabhai MBBS , earned him the reputation of a lucid story teller and Lage Raho Munnabhai in 2006 cemented it further.
3 Idiots, however, has surpassed all expectations, perhaps his own as well. So what makes him tick?
"He's really chilled out and doesn't tend to get hyper," Aamir Khan had said when he was in Delhi for the film's pre-release press conference.
On his part, Hirani says, "I love telling stories. When my first film released jaadu ki jhappi became a buzzword. When my second film released, Gandhigiri became fashionable. Many people wondered if I would succeed a third time. But 3 Idiots has beaten all my previous records."
Besides, it has also established that Aal izz well.