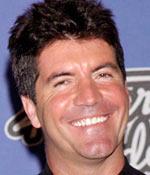 Those of you who hate Simon Cowell's guts, here's some good news. The American Idol judge has announced that this year's season of the popular reality show will be his last.
Cowell's announcement came after he made a 100-million-pound deal to take The X Factor to the US.
'We reached an agreement at 10.30 this morning,' the Mirror quoted Cowell as telling guests at a TV Critics Association event in Pasedena, California.
'X Factor will launch in 2011 with me judging and producing the show. So this will be my last season on American Idol.'
He added: 'I'm thrilled and excited about this.'
The music mogul will quit American Idol after this series to focus on the US X Factor.
Cowell revealed he was 'offered a lot of money' to stay on American Idol but added: 'I wanted a new challenge.'
Cheryl Cole and Paula Abdul could join the US X Factor, slated to air next year.
Cowell said: 'I adore Paula. Whatever happens, I will be working with her in some capacity. Because I miss her.'
Well, we miss her too. The question is: will we miss Simon?