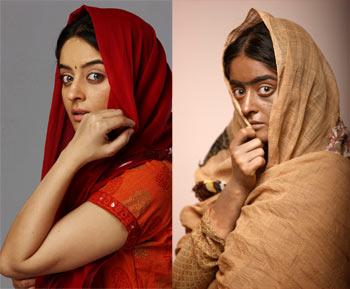 Nakusha unveiled her unattractive face, and revealed quite a beautiful one under the layers of make-up in Lagi Tujhse Lagan.
The suspense behind the ugly face is now over, as we learn that Nakusha's mother Baabi wanted to hide her daughter's pretty face, as she thought beauty born in poverty is a curse. So she would paint Nakusha's face black so that her poverty-stricken neighbours would ignore the 'dark-skinned' girl.
Actress Mahi Vij, who plays Nakusha, talks to Rajul Hegde about looking unappealing in her first major television show.
How did you land the role of Nakusha in Lagi Tujhse Lagan?
I went for the auditions, where the creative director narrated the story to me and said that it was based on a real story. The moment I delivered the first few dialogues in my audition, I knew I was destined to be Nakusha. I am ready to live the role to the best of my ability. I liked the story and was excited to be part of Colors' channel. They handle social issues very well.
What was it about the role that appealed to you?
I am like Nakusha. I have the same amount of patience like her, and am a family person like her. So it was not been difficult for me to do the role. But I must confess my admiration for the character -- she can wear a smile even when she is ridiculed by the people, thanks to her physical appearance.
Were you ever apprehensive about playing Nakusha?
Not really. I am not even afraid of what kind of shows would come my way after this one.
How much time did it take you to wear Nakusha's look?
It would take an hour. Nobody recognised me on the first day of the shoot because of the colour. Nakusha was made to look ugly with kajal and ash on her body. 
Did the success of Jassi... Jaisi Koi Nahin inspire you to take up this role?
I don't know why everyone is asking me this. Nakusha and Jassi are very different from each other. Jassi had a makeover while Nakusha is a beautiful girl, whose made to look ugly due to the circumstances.
Did you do any kind of homework to play Nakusha?
I had shot in a slum earlier for a music video. Now I am shooting in the slums for longer hours and learning a lot of things about the daily lives of these people. Like their food and clothing problems.
We had a workshop before the show, and were asked to watch some Marathi films. It was difficult for me to pronounce some Marathi words, as I am a hardcore Punjabi. But I'm managing it. Chinmayee Sumeet Raghavan, who plays my mother, is a fantastic actress. She taught me Marathi. We have become very close now and discuss recipes on the sets!
Is there any scene where you sympathised with Nakusha?
Yes. We were shooting for this particular scene where Nakusha goes to the market in a khaki dress and people humiliate her by throwing crap on her. That scene really moved me.
What feedback have you got from your family and friends?
When the promos were out, I didn't tell my friends that I was playing Nakusha. My parents hardly watch any television shows but they are hooked to this show. I'm getting positive feedback.
Tell us about yourself.
I was a model in Delhi, doing print advertisements. I shifted to Mumbai with my parents, and started modelling here. I did couple of music videos and south films. 
Then I was offered Kaisi Laagi Lagan, which eventually became Shubh Kadam on Sahara One. It ran for a year. Now, I'm on the sets of Lagi Tujhse Lagan.