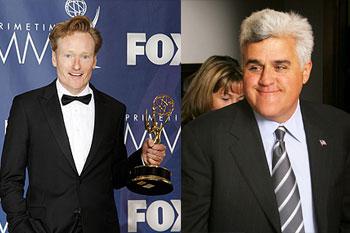 It's confirmed. Conan O'Brien is leaving The Tonight Show.
According to The Daily Beast website, the host of the show who took over Jay Leno is leaving NBC for an as-yet unspecified payout.
Which means he will be free to appear on another network before his contract expires, the website reported.
TMZ reported that NBC has signed Jay Leno to a new contract that will give him a one hour late night talk show from 11:35pm to 12:35 under the title The Tonight Show.
As for O'Brien, it's unclear where he might go next.
Image: Conan O'Brien and Jay Leno