A film rarely acknowledges the source from where its story has been adapted. So it's surprising to see an acknowledgement even before the credits start rolling in Malayalam film, Happy Husbands. And this helps in sending out positive vibes to the audience.
Happy Husbands is directed by Saji Surendran, a television director, who made a successful film debut with Ivar Vivahitharaayal last year. He was honest enough to admit that Happy Husbands is based on the Tamil film, Charlie Chaplin.

As the title Happy Husbands suggests, the film is about matrimony. Mukundan Menon (Jayaram) is a firebrand journalist running a magazine called Kerala Today, writing about the vices of the society. Though a loyal husband, his wife Krishnendu (Bhavana) never trusts him. Reason? She is not highly qualified and second, they are childless even after three years of marriage.
Her friend Shreya's (Samvrutha) husband is Rahul (Indrajith), a successful businessman, supposedly doting on his wife. But in reality, he is a philandering lout, justifying his actions by saying it adds spice to married life.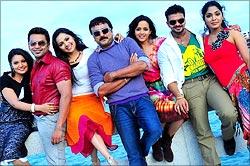 Krishnendu forces Mukundan to be with Rahul and take a few tips from him. Rahul introduces Mukundan to a siren called Diana (Rima Kallingal), who makes an entry doing a pole dance in nightclub.

Then there is another couple Johnny (Jayasurya), who works as a photographer with Mukundan. His love interest Sareena (Vandana) is the daughter of a retired police officer.

It is futile to look for logic or substance in Krishna Poojappura's script. The film just goes on and on and shows how the three men struggle to hide their relationship with Diana from their respective spouses and thereby, the goof ups they make. Still, it works because of the humour between the lead players.

Initially, we may feel that Jayaram and Bhavana are an odd pairing (they were last seen in the horror film Winter). But because of their efforts, it works. Jayaram has stiff competition from the youngsters. Still, he holds his ground. Indrajith is the surprise package with his bleached hair and waxed chest, looking very metro-sexual (in spite of his hefty physique). Jayasurya is the usual joker of the pack.

Bhavana has a plum role amongst the women and she does justice to it, balancing humour with sentiment. Samvrutha plays a subdued docile wife but she makes her presence felt. Rima seems to be uncertain as to what she is supposed to do; her character demands confidence which she lacks.

Suraj Venjarmood and Maniyanpilla Raju support the cast with some over-the-top humour.

Happy Husbands is worth watching if you want a laugh without exerting your brains.
Rediff Rating: