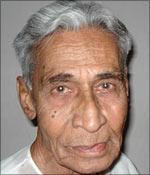 V K Murthy will be the first cinematographer to get the Dada Saheb Phalke award for his contribution to the film industry. Murthy, who has worked in most Guru Dutt films like Sahib Biwi Aur Ghulam, Kaagaz Ke Phool and Pyaasa, shifted to Bangalore after retirement.

He is the second Kannadiga to win this award after Kannada movie icon Dr Raj Kumar.

Murthy told rediff.com that he was extremely happy to be selected for the prestigious award. "Though I am the first cinematographer to win this award, I think this award goes to the most talented cinematographers in the Indian film industry, who had carved a big name in the industry," Murthy said. "I can not forget Fali Mistrisaab with whom I had worked as an associate and learnt many things about the cinematography. I also remember my association with the great Guru Duttsaab with whom I worked in several films. In fact, it was Guru Dutt, who gave me my first break as a cinematographer."
Besides Guru Dutt, Murthy also worked with Pramod Chakravarthy (Naya Zamana, Jugnu), Kamal Amrohi (Pakeezah) and Shyam Benegal (Bharat Ke Khoj, a television series).

He worked in award-winning director S V Rajendra Singh Babu's Kannada film, Hoovu Hannu, as well. "I was very happy to work in a Kannada film. I was 60 plus when I got the film. But my enthusiasm had not waned. I got much appreciation for my work here," Murthy said.

Actor Jai Jagadish, who had produced the film, said that he had been apprehensive about Murthy doing the camerawork for the film. "His enthusiasm had really surprised us," Jagadish said. "He was very fast in his work. His lighting work and choice of lenses were perfect. He would discuss each shot with the director to get the perfect shot."

Looking back, Murthy said that getting a break in Mumbai was not easy at all. While job-hunting in movie studios, he did part-time jobs like teaching the violin to sustain himself. He soon got a job to assist noted cinematographer Dronacharya in the film, Maharana Pratap.

Later, impressed with his work in Amrapali, Murthy asked cinematographer Fali Mistry to take him on as an assistant. But his real turning point in his life came when he met Guru Dutt. 
"Guru Dutt was shooting Baazi, and I made a suggestion about a difficult shot that could enhance the impact of one sequence. Dutt said that his cameraman would not be able to execute that shot. I asked him to give me a chance. After the day's pack up, he asked me if I was interested in working with him. I said yes," Murthy said.