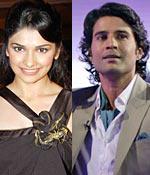 Rajeev Khandelwal, who gave us the brilliant Aamir in 2008, has been signed for a film tentatively titled Joker. And no, we're not talking about Shirish Kunder's film of the same name.
Directed by Kumar Gaurav's cousin, Vikram Tuli, Joker is about a doting father who raises his four-year-old son single-handedly after his wife's death. He gets a rude shock when he learns that his son is terminally ill. He vows to keep his son happy at all costs -- thus, the tentative name, Joker.
The child wants his father to be happy as well, and wants him to marry his close friend, played by Prachi Desai.
The film will be shot entirely in New Zealand and produced by Kishan Chaudhary of Ikkon Films. Cinematographer Alphonse Roy, who had shot Aamir, will work here as well.
The shooting is expected to start by the end of the month, and may release in July.