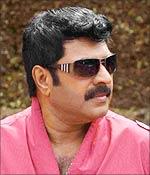 When a film's title is chosen based on some weird superstition; what more can we say about it? It is believed that the makers of the Malayalam film
Drona 2010
added the numerals to the title because a film with the same name had failed in other languages.
The movie directed by Shaji Kailas, written by Sajan A K and starring Mammootty, is supposed to be a spook fest but is anything but.
As for the story, it is about two wealthy families involved in a feud for generations. One side is always trying to get even all the time but fails. You get a sense of déjà vu as you have seen at least half a dozen films with the same premise every year.
The spooky part occurs when Kunjunni (Mammootty), who is dealing in ancestral buildings, gets interested in a property that is supposed to be haunted. The house proves fatal for him and he dies. Enter his elder brother, Pattazhi Madhavan (Mammootty's second avatar), a scholar of some sort with flowing mane and rugged beard chanting mantras in Sanskrit. He vows to avenge his sibling's death by killing the spirit that resides in the house.
The spirit of Savitri (Dhanya) has an old score to settle with the Pattazhi family and proves to be a hard nut to crack. So, we see extended rituals, explanation of Vastu and a lot of other things. And, making an effort to give rational justifications to the supernatural happenings in the end proves to be a huge damper.
The film works, if at all, because of the towering presence of Mammootty and the supporting cast consisting of Thilakan and Manoj K Jayan.
Mammootty as Kunjunni is our conventional dashing hero in designer sunglasses who handles humour and action well. At the same time his second avatar -- which has some novelty initially -- loses the charm towards the end as he has to be continually loud.
Thilakan, the old war horse holds on to his space and matches Mammootty in every step. Manoj K Jayan seems to be passing through a lucky phase professionally as he keeps playing characters that are noticed. Even here he is convincing though his character is unnaturally loud.
Of the females, Kaniha as the immature Thulasi has some variety as she has only done mature characters till date. Dhanya, as the ravishing spirit passes the litmus test of being noticed even though she is silent most of the time. Navya Nair as Madhavan's wife deserves better.
All in all, the actors deserve a better film than this ho-hum film.
Rediff Rating: