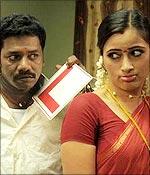 Pavithra Srinivasan reviews the Tamil film, Ambasamudram Ambani.
While stories with message and tales of romance are dime a dozen in Tamil cinema, few actually manage to get the mix right.
Ken Media's Ambasamudram Ambani, directed by P Ramnath comes chockfull of a goodwill message and he actually makes it work.
After Dindugal Sarathy, Karunaas surprises (and delights) you, with his apt choice of role: he's the incredibly hard-working Dandapani, who, along with his hilarious sidekick Karthi (Shankar), will take up any and every work to earn some money.
He has a newspaper agency, runs odd jobs, delivers goods, sells snacks and whatnots to scrape every penny he can land his hands on. Reason? He wants to become another Ambani. To that end, he has his own quirks; he listens to a Kolli Malai Sithar and prays at 3 am in the morning, setting his neighbourhood by its ears, buys tea for random men (one of whom, he hopes, will become and MP and help him out some day), but he has a kind heart too.
Naturally, there's a heroine in the mix: Nandhini (Navneet Kaur). Her father (V M Haneefa) wants her to join the police force, but she detests the idea, and will do anything to get out of it. In fact, that's how she meets Dandapani: during an unfortunate attempt at training for her future (!) career. She falls in love with him, but he doesn't reciprocate.
Meantime, Dandapani progresses slowly but surely towards his Ambani goal, by paying money in installments to Dhanushkodi Annachi (Kotta Sreenivasa Rao), an industrialist who helped Dandapani as a child. He desperately wants to set up shop in the shopping complex Annachi is building and the latter accepts, after initial ribbing.
And then, true to real life, disaster strikes in as many forms as it can.
Karunaas is perfect as the sincere worker who is steadfast in working up the hard way, but who faces unforeseen setbacks and lords over them with sheer human spirit. His comic timing helps enliven what might have been a goody-goody movie. In fact, you can see quite a bit of K Bhagyaraj in the way he plays an honest, ordinary man who is beset by everyday troubles, but tries to find his own unique solution to it.
But it's Shankar, his shadow, who has delivered an outstanding performance. He laughs, cries, delivers and receives blows and bouquets with perfect style, transforming himself into the role very convincingly.
Navneeth Kaur actually has some scope to perform, and gives an adequate one. There is plenty of navel showing and the mandatory kuthu songs, but since there is a story as well, these can be ignored.
Secondary characters like V M C Haneefa, Delhi Ganesh, Kotta Sreenivasa Rao, etc add colour to the proceedings.
V T Vijayan's editing is skillful, especially in the montage shots during the Ambasamudram Ambani song, while Pulithevan's cinematography works quite well. Sura's art-work is praiseworthy. The real drawbacks are the song and dance sequences; they do nothing for the story, and act as unwitting hindrances.
It is a testament to the director's story-telling skills that what should, by rights, have been a terribly serious story turns out to be very entertaining. True, the Mundhanai Mudichu-esque romance scenes post intermission drag the pace, but the movie picks up soon enough.
Ambasamudram Ambani could have gone wrong in so many places, but it accomplishes what it sets out do: be a mild, feel-good, occasionally heart-warming, funny story with a solid message: Hard work always wins. Worth a watch.
Rediff Rating: