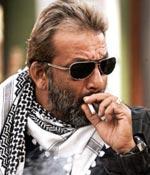 Words like hope lose all their credibility when pitted against interminable crisis. Dark determination is the only avenue of outliving this inexplicable lifestyle of constant dread and irrefutable injustice in a state once said to be designed by the Gods.  
A rare beauty destined for ruin, Kashmir's saga of suffering is horrifying beyond imagination. Accustomed to this legacy of affliction, a brutally tortured captive wryly retorts, 'Meri haalat Kashmir se to behtar hai.'
After his stirring depiction of how an unsuspecting family becomes the victim of 2002's communal riots in Gujarat, filmmaker Rahul Dholakia throws light on the messy state of affairs owing to Kashmir's on-going conflict, in Lamhaa.
Bollywood isn't alien to the theme. Only most scripts have used the ensuing turmoil as a means to infuse jingoistic, sensationalist sentiments, which do little more than evoke wolf-whistles after the hero has delivered the dramatically-penned punch-line.
But the prevailing issue is much too sensitive to be mocked at let alone be cashed on. There are enough people doing that already. Not that Dholakia shows any inclination of making a docu-drama. But his Lamhaa, without doubt, is one of the keenest of its genre. The film shows an in-depth understanding of the deep-rooted nexus and multi-leveled problems that plague Kashmir.  
Though it does not have a plot, per se; Dholakia isn't aiming towards a singular storyline nor is he entirely drawn in doing a study or expose. Rather his Lamhaa is like an elaborate montage of innumerable episodes, voices and concerns while trying to put the pieces together for its surprisingly loose climax. This is both engrossing and exhausting in turns.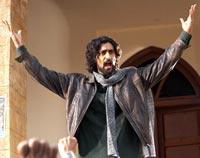 But that's precisely why Dholakia deserves a pat on his back. He challenges his viewer to keep pace, to be sharp enough to gauge what he's driving at and, most importantly, to take it for granted that we know the history of our own country and its disputed parts.
Every few minutes acquaint us with an uneasy chapter of Kashmir's actuality -- a bitter, underpaid soldier at the border, a grieving village of half-widows seeking their mysteriously missing husbands, absconders looking for an entry across the border, unreliable army violating human rights, locals harboring anti-Indian sentiments, politicians sneaky campaigns for votes and alliances, power brokers scheming disaster-leading strategies, militancy-training camps featuring little boys, spies, sex scandals, suicide squads.  
Having said that, Lamhaa works around a sly, commercial frame. And so you have Sanjay Dutt in his trademark swagger and sunglasses, adorning a fashionable keffiyeh around his neck, puff a Marlboro against a feverish play of rock guitar. He calls himself a 'messiah' in one of the scenes and that's exactly how he plays it. But he does it with enough conviction and wisdom of memorable onscreen valiance for us to buy it without any further ado.  
Dutt's co-star Bipasha Basu has enough steel in her personality to convey the gritty ambition of her Aziza's pursuits but her unmistakably city-bred demeanor and diction makes it difficult for us to digest her as a Kashmiri local. On that front, the supporting cast of Anupam Kher, Murli Sharma, Shernaz Patel, Yashpal Sharma and Mahesh Manjrekar does adequately well.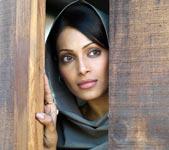 While on casting, Kunal Kapoor is grossly miscast as the young and aspiring political voice of independence-seeking Kashmir. He looks devilishly handsome and bears sufficient physical resemblance to the extent of charisma Dholakia has in mind. But ask him to deliver a speech and the man fumbles. And fumbles hard. His dialogue delivery is too self-conscious and unintentionally ridicules the purpose of his onscreen actions.
There are times when you draw parallels with Tony Scott's Spy Game but purely with regards to stylized treatment of the real deal. On another occasion, there's a disturbing sequence, taking its inspiration from Giuseppe Tornatore's Malena, wherein a mob of veiled women conduct a ruthless public attack on Bipasha's Aziza.  
Hard-selling viable elements like music isn't Dholakia's strongest points as he awkwardly introduces songs into a racy narrative that begs otherwise. While Mithoon's soundtrack is aces, the background score by Sanjay Chowdhary feels too commonplace to make a significant impact.
The same criticism applies to the dialogues (Sai Kabir, Ashwath Bhatt) which could expand their vocabulary beyond defining Kashmir as a beautiful prison or dangerous destination. The location in all its authentic glory, of course, is marvelously captured through James Fowlds's perceptive camerawork.
Ultimately, Lamhaa's relevance lies in its ability to give you an overview, even if it's a crammed one, about the ugliness of greed and intolerance through the example of Kashmir. At the same time it's honest and practical enough to end on an unfulfilled, hopeless note.
Rediff Rating: