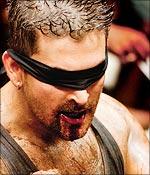 Sukanya Verma reviews the music of Lafangey Parindey.
He's a crazy fighter cum biker. She's a blind dancer on roller skates. Lafangey Parindey is a maverick romance between One Shot Nandu and Pinky Palkar.
Starring Neil Nitin Mukesh and Deepika Padukone, Lafangey Parindey is a distinct departure for director Pradeep Sarkar who previously helmed woman-centric melodramas like Parineeta and Laaga Chunari Mein Daag.
For his latest under the Yash Raj banner, he replaces regular composer Shantanu Moitra with R Anandh, best remembered for his dazzling albeit underrated work (Main kudi anjaani, Tere pyaar mein) in Sunny Deol-led action flick, Zor. He also ropes in Swanand Kirkire, high on 3 Idiots and Striker to whip magic with his pen.
The soundtrack begins on a high-strung note with Ronit Sarkar throwing in a good measure of attitude and aggression, which bears striking resemblance to A R Rahman's high-pitched crooning, for the definitive title track. While Lafangey parindey (watch video) is unmistakably rock in genre, there's an attempt to bring in a sense of desi with a balle-balleish sprinkling every now and then.  
Anandh weaves lilting, quirky enchantment to Kirkire's poetic apparitions for the instantly appealing Man lafangey (watch video). Mellow is Mohit Chauhan's gift. And he employs it to stirring effect with his soothing rendition of a song amused with the waywardness of love but sane enough to overlook the drawbacks. A racy club mix follows but we'll go with the original any day.
Animated bonhomie marks the soul of Dhatad tatad. High on rhythmic verbatim and bombastic philosophy, this manic merger of street-style percussion and sleek rock guitar is, thankfully, not all noise. Anandh's adept arrangement bolstered by Shail Hada and Anushka Manchanda's buoyant vocals ensures Dhatad brings the house down.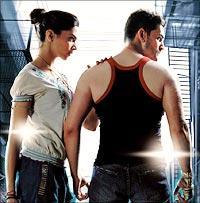 There's a great deal of introspection and description in the songs of this enterprise. And so the unbound temperament of Lafangey Parindey's leading characters is conveyed through Shilpa Rao's ethereal delivery of Nain parindey.  If you loved Wake Up Sid's Iktaara, you're bound to fall for Nain parindey just as hard. Divine, dulcet and contemplative, Nain is quite easily the simplest and best offering of this album.
After wowing us with his powerful treble in Sadka (I Hate Luv Storys), Surag Jagan aims to impress Rang daalein. Despite all his intense efforts, the composition with its overtly stylized, synthesized layout tries too hard to be deadly and edgy.  
While one cannot deny the influence of Hollywood composers in the instrumental theme, Born to fly, Anand keeps it a compelling a mix of drama and emotion to complain.
From glassy moments to grungy fervour, Lafangey Parindey is irresistibly whimsical.
Rediff Rating: