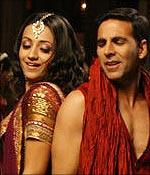 Sukanya Verma reviews Khatta Meetha
There's no such thing as Indian', contends Sachin Tichkule. 'We are either Bengali, Gujarati or Maharashtrian, etc.  The only time we become Indian is when India is playing a cricket match against Pakistan.'
A rather Sunny Deol thing to say, you'd think. But it's not the ardent Gadar guy, notorious for his loquacious diatribe on all subjects patriotic, at work. Neither is this a nationalistic drama in the actual sense.
Instead Priyadarshan's Khatta Meetha is a part-funny, part-furious take on prevalent corruption and red-tapism through the misadventures of its chief protagonist, Sachin Tichkule. It's not a particularly attention-grabbing name like say Pappu Pager or Crimemaster Gogo but the makers insist we develop a liking for it and so keep highlighting this fact like a screechy punctuation as often as they can. Doesn't work. What it does do is bring the discrepancies of clashing accents to your notice. For a typical Maharashtrian family, this one doles out an infuriating mix of Marathi and Punjabi twang.
The deal with Mr Tichkule, promoted as the R K Laxman-inspired voice of common man, is that it's more Bollywood than comic strip. As opposed to Khatta Meetha, the cartoon as well the original Malayalam movie Vellanakalude Nadu, are both strong on subtlety and aesthetics. 
In this visibly opulent upgrade of the 1988 Mohanlal-starrer, also directed by Priyan, the core objectives remain the same -- deep-rooted dishonesty directed specifically at the infrastructure sector but the hero's aspirations have rocketed from Honda to Mercedes.
Drowned in loans, Akshay Kumar plays the aforementioned hyper-ambitious contractor Tichkule struggling to keep his job while his bribe-friendly brother and brother-in-laws fill their coffers with illicit money.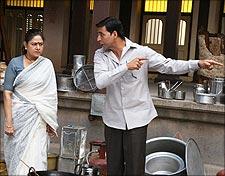 Though hailing from a noble family, Tichkule is the quintessential black sheep with a Gandhian flashback and slightly roguish present. His encounters with bumbling co-workers, nagging investors, municipality and ex-flame (Trisha Krishnan) against the sub-plot of his sly family and their motives forms the crux of Khatta Meetha. 
There are times when Tichkule's rant feels timely and relatable. Bad roads are a constant grievance. Another sequence features him sobbing aloud in complete dismay at the breakdown of his precious road-roller, 'Aur kharcha nahi kar sakta,' resonating the real-life frustration and concern of a common guy. The solution Priyan offers to the crisis, however, is much too ridiculous and kills the realism soon enough.
Even so it's wonderful to watch Johnny Lever doing a brief shtick during this above mentioned fiasco. Speaking of comedians, Priyan doesn't forget to cast his regulars -- Rajpal Yadav, Asrani and Manoj Joshi to portray different levels of obnoxious. And if going over-the-top is the purpose, they dutifully abide.
As for Akshay Kumar and how he fares. He's energetic and sincere. He's quite effective in the scenes where he has to be disgruntled. Otherwise he's no more than a wannabe Banwarilal (of Chachi 420 fame) with double the paraphernalia and half the idiosyncrasy. His co-star Trisha, however, fails to stand up to Akshay. She seems too frail for a part better suited for someone fiery and gritty like Sushmita Sen, Vidya Balan or even Neha Dhupia, another Priyan favourite.
Considering the original came out in late 1980s, the story with its baggage of generic turns and contrived twists seems all too familiar in making its even-now significant point. In addition, it seems a tad too long at its three hours running time. To think there are just three songs but they are placed at worst possible times and break the momentum instead of taking it ahead.
Moreover, Khatta Meetha projects itself as a witty satire with reference to someone as reputed as Laxman but its uneven mood shift from ironical to intense augmented by cheesy dialogues like 'Keechad mein baithe suwar ki tarah sust kyon ho?' begs you not to be taken seriously.
And, well, you comply.
Rediff Rating: