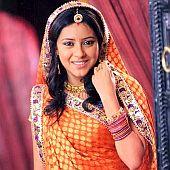 It is not often that you see so much media hype over a leap in a television serial. But
Balika Vadhu
and the five-year 'leap' this week has created so much of discussion across the nation that it can very well be compared to what happened during the heydays of 
Kyun Ki Saas Bhi Kabhi Bahu Thi.
The immensely popular show on Colors witnessed a major change in its lead cast with Anandi and Jagadish growing up and adult faces replacing the sweet faces of Avika Gor and Avinash Mukherjee.
After a talent hunt, the makers zeroed in on a girl from Jamshedpur -- Pratyusha Banerjee -- to play the adult Anandi. Last week, fans waited with a bated breath to see how Pratyusha would take over the reins from Avika.
Though we saw only glimpses of Pratyusha in the last two episodes, and she has yet to prove her mettle, initial reactions suggest that she will be able to make a smooth transition from the child to the adult Anandi.
Her looks are quite different though. While Avika had a chubby, cute charm, Pratyusha is slim and attractive.
The show took a leap when Anandi's in-laws decided that since both Anandi and Jagya were crossing an important phase in their life (read teens) and to avoid any complexity, they should stay apart. The leap started with Anandi waiting for her husband Jagya in a desert hoping that he would come back and take her home. But nothing like that happened. Anandi is shown to be missing Jagya a lot and hoping that one day he would be back in her life. Expectedly, Anandi is now shown as a much more mature and sensible person, in contrast to the chirpy little girl we had come to love.
The leap of the show, apparently, has a purpose. The makers want to show how harmful child marriage can be and its practical problems.
In the current storyline, Anandi's father Khajjan Singh is shown to be still in jail and her mother goes to meet him every month. Anandi grows up to be very caring and dutiful towards her mother, and prepares food for her father. Meanwhile, Anandi's in-laws Bhairon and Sumitra are all set to call their daughter-in-law back after the pre-decided gap of five years.
The next week's episodes will make it clear whether Jagya (we will see a new face in this role as well) will be able to accept Anandi. Whether a grown-up Anandi will be able to adjust herself in her in-laws' place or not also remains to be seen.
Let's wait and watch.