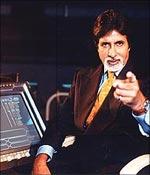 Amitabh Bachchan has taken to Twitter to unveil the new logo for his hit show, Kaun Banega Crorepati. And apparently, Sony took his suggestions into account when coming up with the new image!
The logo, which Big B posted via Twitpic, features the recently released symbol for the Indian rupee in the background, an addition Amitabh has claimed as his own.
Big B wrote underneath the pic: "New logo for KBC ! Note the Rupee symbol incorporated in the design. My suggestion !! Yeahhh !! Feeling good !! thank you SONY .. What do you guys feel?"
Kaun Banega Crorepati is one most successful reality shows in Indian television history. Amitabh shouldered hosting duties for the show for seasons one and two, while his Bollywood peer Shah Rukh Khan took over as host for season three. 
Now Amitabh is back in the host's chair for the upcoming fourth season, phone entries for which open August 2.
So, what do you think of the new logo? Too cluttered? Stylish?