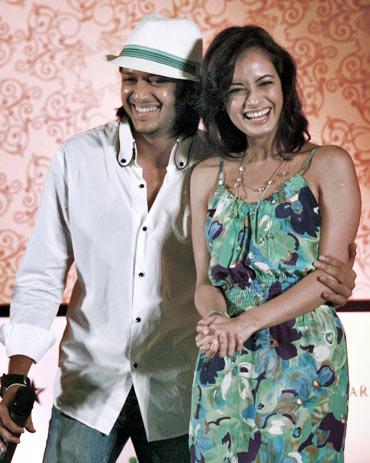 The 11th edition of the IIFA weekend began on Thursday with the host country Sri Lanka rolling out the red carpet for Bollywood actors who are participating in the extravaganza despite calls to boycott the event.
Salman Khan and Hrithik Roshan are participating in the controversy-ridden event which has been boycotted by the South Indian Film Chamber of Commerce as a mark of protest against the alleged mistreatment of the Tamils in the country.
The arriving stars were given a warm welcome by the Lankan fans at the Bandarnaike International Airport today. Roads leading from the airport at Katunayake to Colombo were manned by police and army personnel and a pilot vehicle escorted all guests along the hour long drive from the airport to the city.
The film industry in the state of Tamil Nadu, which shares close cultural and religious links with the Tamil minority in Sri Lanka, is staying away from the event with superstars Kamal Haasan and Rajnikanth giving it a miss.
For the first time, IIFA brand ambassador Amitabh Bachchan is not attending the three-day event which has come to be known as the 'Bollywood's Oscars' outside Indian shores.
The megastar is currently shooting in Gujarat while his actor son Abhishek is in Istanbul for a film shoot and daughter-in-law Aishwarya Rai is in Paris to promote a brand.
After Bachchan addressed his first press conference in Colombo to announce the venue, there have been two incidents of protests by Tamil groups outside his home in Mumbai asking him to stay away from the event.
Shah Rukh Khan who has not attended the IIFA weekends since 2005, this time too has decided to give it a miss citing the ongoing production of Ra.one.
But Sri Lankan cricket captain Kumar Sangakara applauded the film personalities for their "courage and conviction" in coming to Colombo despite obstacles.
Sangakara who will play a charity match against a team led by Hrithik and Sunil Shetty said that his countrymen were "true fans" of Bollywood stars and expressed confidence that his country would live up to the challenge.
Actor Vivek Oberoi who has spoken up against the protests said that though he had a special relationship with Tamil Nadu, he believes that the IIFA event will actually benefit the displaced Tamil population of Sri Lanka.
Image:Ritesh Deshmukh and Dia Mirza smile during a news conference in Colombo on Thursday. Photograph: Rupak De Chowdhuri/Reuters