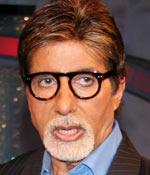 Amitabh Bachchan will be honoured with a lifetime achievement award at The Hong Kong International Film Festival's Asian Film Awards.
The actor, 67, will accept the award in person at the annual prize ceremony on March 22, organisers said in a statement, reports The Mirror.
Festival director Shaw Soo Wei said Bachchan left a mark on world cinema "with tremendous talent, a rigorous work ethic and an uncanny ability to reinvent himself".