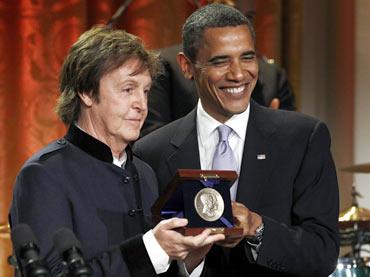 Legendary Beatles musician Sir Paul McCartney performed at the White House on Wednesday night, and also received an award from US President Barack Obama.
The 67-year-old even performed the ballad Michelle, and directed the song to first lady Michelle Obama!
He was performing as part of a concert in his honour, where he was presented with the third annual Gershwin Prize for Popular Song.
Other musicians who performed were the Foo Fighters' Dave Grohl, Elvis Costello and Faith Hill. Comedian Jerry Seinfeld also took the mic and told some jokes.
The Gershwin Prize for Popular Song award, given by the US Library of Congress, was first won two years ago by Paul Simon. Stevie Wonder took home the prize last year. Wonder also performed last night.
McCartney's performance included some of his other hits, like Got To Get You Into My Life and Hey Jude.
"I don't think there could be anything more special than to perform here," he reportedly said.
Meanwhile, President Obama praised McCarntey, saying the Beatles' music had helped provide "the soundtrack for an entire generation".
The concert will be broadcast in the US next month. 
Image: US President Barack Obama smiles next to Paul McCartney at the White House in Washington on Wednesday. Photograph: Kevin Lamarque/Reuters