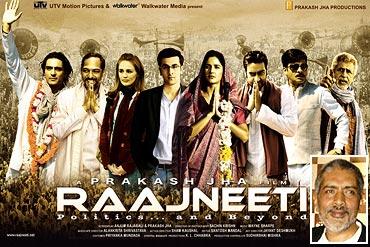 58-year-old filmmaker Prakash Jha loves politics. There can be no question of that. His previous noteworthy films explored in-depth political issues. And now he's released Raajneeti, his mainstream political magnum opus.
But perhaps most interesting is that, unlike the vast majority of artists, Jha's political beliefs go beyond the realm of creativity. He wants to see them actualised, and has even stood twice (and failed twice) for Lok Sabha polls.
In a recent interview with business daily Mint, Jha reveals a bit about his true political leanings.
For starters, Jha says his films, with their wide-ranging political narratives, have little to do with his personal career as an aspiring pol, which started in large part because of the education and healthcare work he was doing with his NGO, Anubhooti.
"My reason for contesting parliamentary elections is primarily because in the past five or six years I have been able to do some work in my district in Bihar… I have always been socially active in Bihar and very close to where I come from. To contest elections was to have access to resources. When you have people backing you it becomes easier to access any government department," he tells Mint.
His film Raajneeti, on the other hand, is about cut-throat power politics and climbing to the top of the political food chain. Jha says he's observed these power politics in his own life, but that his personal political career is more mundane.
Jha also explains that, while Raajneeti shows a dirty side to politics, it's not the only side that exists in India.
"I do think there are young people who are conscious, getting interested, even seeing politics as a profession. In a democracy, political ideology, political thought and political action should become a part of our life," adding that Raajneeti is not an 'essay' on democracy.
Still, Jha's films have had pointed messages about the dangers of India's caste-based politics. Turns out, the director himself is well aware of what he's conveying, and explained this about his film Damul.
"The feudal society in Damul was based on traditional caste relations.  In Mrityudand, the traditional zamindar of Damul whose diktat runs over the people and their lives, is suddenly reduced to a man living in a big, crumbling zamindari house but his lands have been sold to a low-caste man. The landlords and powers-that-be in Mrityudand are the contractors, represented by the character played by Mohan Joshi. Eight years later, in Gangaajal, one Yadav kills another Yadav. That's the decade of saturation of caste-based politics. What's happening to Mulayam Singh and Lalu (Prasad) now? It's a saturation point of their caste-based politics. I have studied the overlapping of caste and politics, and the time when the Mandal Commission and the market economy happened, simultaneously, was an amazing time for me to make movies."