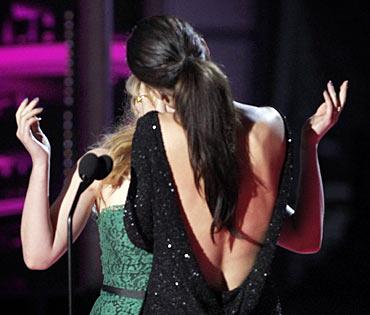 Sandra Bullock and Scarlett Johansson shared a kiss on stage at the MTV Movie Awards Sunday in Universal City, California.
Bullock, 45, was presented with the Generation Award 'for her riveting and diverse contributions to the film industry,' reports Usmagazine.com.
This isn't the first time Bullock has smooched a woman on stage: She kissed Meryl Streep at the 15th Annual Critics' Choice Movie Awards in January.
Bullock also made a surprise appearance at Spike TV's 'Guys Choice' event in Culver City, California., where she received the 'Troops Choice' Award for Entertainer of The Year.
Image: Sandra Bullock kisses Scarlett Johansson as she accepts the generation award at the 2010 MTV Movie Awards in Los Angeles on Sunday. Photograph: Mario Anzuoni/Reuters