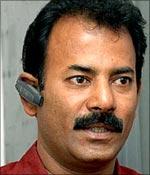 Major Ravi's experience in the Army helped him make a mark in the world of cinema as a director of authentic war and action films with Keerthichakra (militancy in Kashmir) Mission 90 days (Rajiv Gandhi assassination) and Kurukshetra (Kargil war).
Now, he is back with Kandahar, another action thriller on the infamous Indian Airlines IC 814 hijack to Kandahar and the subsequent release of the dreaded terrorists in exchange for the hostages.
The tri-lingual film (Malayalam, Hindi and Tamil) is co-produced by Mohanlal's Pranavam Arts and stars Amitabh Bachchan, Mohanlal and Ganesh Venkataraman of Unnaipol Oruvan fame in the lead.
Major Ravi speaks exclusively to rediff.com before going to Dehra Dun to shoot the movie which begins today (June 8).
When did the idea to make a film based on the plane hijack to Kandahar occur to you?
Mohanlal came up with the idea when we were shooting for Keerthichakra. That was in 2006.
What happened at Kandahar was a failed mission and I wanted the story to have a positive end but couldn't come up with such a story for a long time. After Keerthichakra, I made Mission 90 days and Kurukshetra. Then, I took a break of two years to write the story of Kandahar.   
Will it be a faithful visualisation or a fictionalised account of the hijacking?
It will be a fictionalised account.
Why call it Kandahar then as the name brings up images of the hijacking?
The film is about a plane hijacking and I have named it so because like you said, the name does conjure images of the hijacking. In the film too, the plane will be hijacked to Kandahar. But there are other things also happening in the film. The way the hijacking ends is also different.
Politics and political statements are intertwined with that hijack. Are you going to make any political statements?
I am not bothered about the politics behind the hijacking. As far as I am concerned, it has to be a film that can generate patriotism in the minds of the people. I know people expect some message from my film. So, yes, there will be a message and that is of patriotism. I have written the story with that in mind.
My film is how things should be sorted out in the event of a hijacking. I am not making a documentary. I am making a film that is interesting. I am making a film that will be an eye opener to the public. It is my duty, I feel to generate the right spirit in people. If I followed what happened that day, I would not be able to do so.
What about the characters? Are they moulded on real people?
All the characters in the film are from my imagination. Why should I create the same people who were there in that plane? Everybody knows what happened that day and who the people were in the plane. Why should I re-create that again?
When the passengers of that ill fated plane came to know that I was making a film based on the hijack, many called me to narrate their stories. Some told me even after ten years, they could not think of the incident without horror or fear.
Who then are the major characters in the film?
It is another mission for my favourite character Major Mahadevan.
Major Mahadevan again?
Yes, it is another mission by Major Mahadevan. He is patriotic and a youth icon. Where there is Mohanlal in my film, there will be Major Mahadevan.
In the second half, the plane is being hijacked and he comes to rescue the plane and the passengers. The second half shows how he gets the plane back from the terrorists.
Why did you chose Amitabh Bachchan? Is it to make the movie a bi-lingual?
Not at all. When I started writing, there was this character and he talked like Amitji. Then, I called Lal and told him that there was a character like this in the script, and we could have him only if Amitji agrees to do it. Nobody else would be able to do it, I told Lal. He then said we would talk to Amitji. Finally it took about a year for me to get an appointment with Amitji through his office. I made him talk to Mohanlal. He then said I could tell him the story.
When Amitji came to Kochi, I went with Mohanlal to meet him and I narrated the story. He liked the character and agreed to do the film.
Then, when we went to pay him an advance, he refused to accept any money saying that he was not doing it for money. Rather he said he was doing it because he wanted to act with Mohanlal in a Malayalam film.
He wrote about that in his blog...
Yes...
Is Kandahar going to be a Malayalam film, or a bilingual?
We have to ask Amitji whether he would mind if we made it in Hindi and Tamil too. Amitji's character is a Hindi speaking person. Anyway, most of the characters are going to speak in Hindi. As for the Malayalam film, I will have sub titles.
If we make it a Hindi film, we will get an all India release. We are looking at these possibilities.
How big is Amitabh Bachchan's character in the movie?
He will be in the film throughout. Its a major character.
Wasn't Suriya also supposed to play a character in the film?
I needed one guy from Tamil Nadu. So we thought of Suriya. I approached Suriya who liked the subject and initially agreed to do the movie. Later we found that a lot of dates were clashing. So, we had a talk and he backed out. We then signed Ganesh Venkataraman for the role.
Is he a commando in the film?
Yes.
Are there no heroines in the film?
What will a heroine do in a commando film? But there are females characters who come and go. There is Ragini Dwivedi from Kannada and then there is Kavery Jha who play an air hostess.
Are Mohanlal and Ganesh Venkataraman undergoing any commando training?
Mohanlal has done the commando operations in my last two films. So I don't have to make him train again and again. He only needs to get physically fit which I have asked him to do. Yes, Ganesh is undergoing training. 
Do you plan to create a set of a plane or are you going to shoot in an original one?
I will go for an original one. Talks are on with Kingfisher and Air India.
Will this be an expensive venture?
Yes.
Are you going to shoot in Kandahar?
No. There are no facilities there to shoot a film. Moreover, it will not be safe to take a film unit there. I will find out a place that looks similar to Kandahar. I am looking for foreign countries like Tashkent.
What is your mental state right now? Are you excited to start shooting?
I get excited only when my film releases and on the first day when I see the public's reaction. My mental state right now is as if I am making my first film. So, excitement is controlled but tension is there.
Where will the shooting of Kandahar start?
In Dehara Dun, the Indian Military Academy.