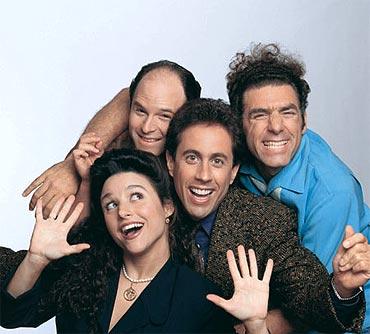 Since Seinfeld went off the air 12 years ago, the show about "nothing" has grossed USD 2.7 billion, according to Time Warner who owns the series.
The New York Post reported that these figures made Seinfeld the most profitable 30 minutes in TV history.
Both Jerry Seinfeld and co-creator Larry David have an undisclosed ownership stake in the show that has paid them in hundreds of millions for the reruns of the show.
The sitcom about four New Yorkers -- Jerry Sienfeld, George Costanza, Elaine Benes and Cosmo Kramer -- first aired in 1985 and ran for nine years with 180 episodes.
The cast included Jerry Seinfeld, Julia Louis-Dreyfus, Michael Richards and Jason Alexander.
It became hugely popular in India when it was aired on cable TV in the late nineties.
Forbes magazine has been speculating about for years that Jerry makes between USD 65-80 million a year from reruns of the show.
"The startling size of the show's total earnings was never known before," the Post said. Pop culture professor Robert Thompson told the paper that Simpson would beat Seinfeld in the future.
"When the end of world history comes, The Simpsons will be the most-rerun show of all time and make the most money," said Thompson, founding director of the Bleier Centre for Television and Popular Culture at Syracuse University.
Jerry's co-stars, however, are reportedly not sharing in the billions. Co-stars Jason Alexander, Richards and Louis-Dreyfus have a portion of the revenues from sales of the show DVDs but not the show's syndication money.