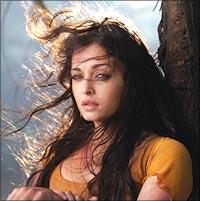 Raavan, which got fairly decent reviews in The New York Times and Los Angeles Times, opened to a disappointing box office in North America.
Distributor Reliance has said it grossed $550,000 in three days. The previous Mani Ratnam film Guru which also paired Abhishek Bachchan and Aiswarya Rai had opened three years ago with a $1 million weekend in America and Canada and went on to earn an impressive $2.4 million in both countries.
If Raavan follows the standard rate of attrition in North America (about 60 percent slum in the second week), it will have a hard time reaching $1 million.
Many viewers in New York and New Jersey cinemas thought that the film was too brutal and at times very dark. A few said they had come to the theatres imagining the film was a modern day take on Ram, Ravan and Sita but were surprised by the twists in the story and that the character played by Vikram had shades of good and bad. They had thought only the character of Ravan would be dark and demonic.
It looks like Raavan will gross about half of what two recent successes have grossed in North America. Raajneeti, a bonafide success and Kites each grossed about $1.6 million in North America, though the latter was deemed a flop because of its huge production cost (estimated to be $20 million).
How Raavan will hold in the next two weeks will be crucial to the film's final fate.
Meanwhile, it is getting some respect from mainstream publications.The New York Times called the film 'richly atmospheric.'
It added: 'Raavan has Bollywood glamour aplenty, with the lovely if occasionally dramatically challenged Aishwarya Rai Bachchan.'
But the film's real star is Mani Ratnam, it asserted, ' a talented visual storyteller who directs action crisply and fills the screen with striking images. Artful but not arty, Mr. Ratnam…delivers the goods.
A R Rahman's score is 'excellent,' the review added, and singled out 'an eye-popping climactic battle, between the bad-good Beera and the good-bad Dev, on a teetering suspension bridge. And that, folks, is entertainment.'
LA Times argued that it is Aishwarya who is a scene-stealer in the film. 'Bollywood superstar Abishek Bachchan has the title role of the romantic adventure epic Raavan, the review asserted, ' but the movie belongs to his exquisite real-life wife Aishwarya Rai. A blue-eyed beauty who resembles Myrna Loy...'
It added: 'Director Mani Ratnam and his colleagues give Bollywood fans full value. Ratnam's pace is steadfastly brisk, and his film is replete with dizzying camerawork, myriad complications, violent mayhem, broad humour, usual musical interludes, a cliffhanging climactic confrontation and a finish that strikes a note of poignancy.'
If only more desi viewers paid attention to the two reviews...