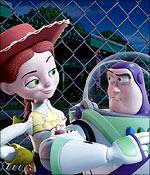 Just as Tim Burton-directed Alice in Wonderland was ending its eventful run yielding about $1.1 billion worldwide, its  producer Disney received over the weekend great news.
Its newest venture with Pixar, Toy Story 3, which was also released in the 3-D format and on IMAX and received glowing reviews grossed $110 million in just three days in North America. The film is the 11th number 1 consecutive opener for Disney and Pixar in North America. It is opening in India this Friday.
The movie is thrilling younger and older audiences, leading to repeat business. Added to the box office gross is the tie-in merchandise that is selling in millions.
In the new adventure Woody (Tom Hanks), Buzz (Tim Allen), and the rest of their toy-box friends are left in a day-care center after boss Andy (John Morris) goes to college.
The Oscar winning scriptwriter Michael Arndt of Little Miss Sunshine who wrote the script for Toy Story 3 with three others is credited for making the film little darker and emotionally more striking than its predecessors.
'After a decade-plus absence, the toys are back in town, and boy are they a sight for sore, 3D-beaten eyes,' wrote Hollywood Reporter.
'Toy Story 3 might not carry that eye-popping dazzle of 1995's milestone original that put Pixar on the map,' the review added. 'But, in the absence of groundbreaking innovation, there's a greater depth that isn't solely attributable to those now-ubiquitous goofy glasses.'
From the low budget Sunshine, Arndt suddenly found himself four years ago working on Toy Story 3, one of the more expensive films in Hollywood.
'The overarching story is about change,' he said in an interview recently. 'You look back at the first story, it's about Woody learned to share the spotlight psychologically. That tracked with a kid who's 4 or 5 [years old]. In the second film, Woody is learning about his mortality and is tempted to leave Andy -- that development is like a child who's 7, 8 or 9.'
With the new Toy Story, Andy learns to try to 'keep things the way they are and learning to be able to move on.'
'That's a more mature sentiment and tracks psychologically more as someone who's in his teens,' Arndt explained. ' In all three films, Woody is the hero, but there's also a single overarching psychological development -- from the very immature, selfish character to a fully mature character.'
There was plenty of good news for American movies last week, with The Karate Kid the box office champ of the previous week grossing almost $107 million in 10 days, giving Jaden Smith, son of the artists Will and Jada Pinckett Smith, a big career boost. He plays the title role in the film which also has brought back Jackie Chan into the limelight. 
Though Disney's is doing disappointing business Prince of Persia: Sands of Time. It gained plenty of ground with Toy Story 3. Each film cost $200 million.
Toy Story 3 is expected to be one of the biggest hits of the year. Though it is being shown only in about a dozen countries abroad, waiting to add more formidable markets such as the United Kingdom, France, Germany and Japan in the coming weeks, it has already grossed an impressive $48 million in three days.
By its fifth day of worldwide run, the film has grossed $200 million.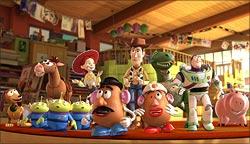 'The animated sequel hit that height mostly through China and Latin America and without any major European territories,' according to The Hollywood Reporter noted. It broke the opening gross record for an animated title in Mexico ($15.6 million), China ($9.5 million) and Argentina ($2.6 million), and it set a new Pixar high in Brazil ($2.8 million).
'Disney reported that its hit movie Up had a $23.7 million from the same 25 countries last year, and Toy Story 3 will follow a similar staggered distribution strategy to the one that led Up to a sensational $438 million foreign total last year.'
If the new film doesn't go for a steep fall in the next two weeks -- and the trade doesn't expect it to do so -- it stands a good chance to reach the $1 billion benchmark.
The strong word of mouth and solid raves will keep the momentum going for the new film.
'Like the best of fairy tales, Toy Story 3 is more serious than it seems and hardly seems serious at all,' San Francisco Chronicle declared.
Giving the film three stars out of four, Chicago Tribune declared: 'If Toy Story 3 had sprung, slinky dog-like, from any creative think tank besides Pixar Animation Studios, it might be considered a classic.

Among other things the Tribune liked the way the film after 'a shrill and conventional first half,' sparks 'with a splendid ode to The Great Escape as cowboy Woody, spaceman Buzz Lightyear, cowgirl Jessie, Mr and Mrs Potato Head and the rest of the principals bust out of the plastic-and-plush-toy gulag in which they find themselves.'
Summer has just begun, with hits such Karate Kid and Toy Story 3, it has got a big start.