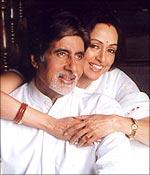 We
asked
readers to send us their favourite and funniest Bollywood bloopers they spotted.
Reader Sachin Dewhare shares with us not one but several hilarious bloopers he has spotted over the years.
Baghban: Amitabh Bachchan and Hema Malini are separated right after Holi (remember Amitabh singing Holi khele Raghubeera?). They are said to be separated for six months (from March to September).
Within the six-month period, they celebrate Valentine's Day, which falls on February 14, and karva chauth, which is usually observed in October. There is no way these two occasions could come between March and September!
Lagaan: Lagaan was shot in the late 19th century. At the time, an over in cricket used to consist of 8 balls. But in this movie, an over has 6 balls. Maybe modern cricket learnt from the movie.
Amar Akbar Anthony: Three men donate blood at the same time to the same person!
Awwal Number: Dev Anand is an omnipotent genius -- former cricketer, captain, army chief, commissioner, you name it. And Aamir Khan carries a huge transistor in his pocket while batting!
Khalnayak: The police tracks the villain from an MS Word document screen! something that the MS Office team would be interested in:)
Pyar To Hona Hi Tha: Kajol gets off the train to use the public toilet at the railway station and the train chugs off without her. Poor girl, didn't she know that every train compartment has four toilets inside?
Khiladiyon Ka Khiladi: Akshay Kumar boards a Jet Airways flight to America. Jet Airways then didn't do international flights.
Raja Hindustani: Navneet Nishan has short hair before marriage. After tying the knot, she acquires waist-length hair overnight. What a hair-raising experience!
Raja: Dalip Tahil empties a can of petrol over Madhuri Dixit. Minutes later, Sanjay Kapoor takes the same can and pours it over Dalip Tahil. That's what I call an autofill!
Guddu: Manisha Koirala and Shah Rukh Khan are seen hanging on a parachute during a song. But when the song ends, they land on a glider. What a switch above sea level!
Tere Mere Sapne: Priya Gill is doing her BA. But at the bus stop, she is carrying an electrical technology thesis by B L Theraja. What electrifying interest!
Wow Sachin! you really watch movies closely. Like your namesake, you have opened our Bollywood Bloopers innings with a knockout score!