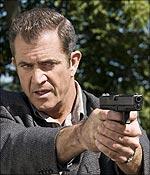 Raja Sen reviews Edge Of Darkness.
Mel Gibson, aged 54, might be playing a tough, no-nonsense cop in Martin Campbell's new film, but the actor has clearly come some way from his action-comedy roots.
The first few minutes of Edge Of Darkness show Gibson's Tom Craven stand shellshocked as a masked man yells his name and shoots his daughter lethally in the chest, and yet when commiserating cops ask him if he has any suspects, Craven sullenly draws a blank.
He never bothered making enemies. It's hard to imagine Lethal Weapon's Martin Riggs behaving the same way.
The actor himself, conversely, has infuriated quite a few people over the last few years, as he's pinballed from Holocaust-denying to drunken anti-Semitic rants, and its hard to forget all of that. Yet as an actor, Gibson -- coming back to the screen for the first time since 2003's The Singing Detective -- seems to channel all that world-weariness and exasperation into very effective character traits, and makes for a cop worth following.
The film itself, as mentioned, is about Craven trying to hunt down his daughter's killer. It is very clear very early on that despite what the world assumes, the cop himself was never the target, and his investigation into his daughter's affairs sets him down the dark and cinematically familiar path of corporate greed, lies and conspiracy theories.
Based on Campbell's own British miniseries of the same name, Edge Of Darkness is both brutal and efficient, not once surprising or over-clever, but compelling enough for a good, solid watch.
This is no Michael Clayton or The Insider, powerful films about whistleblowers that left us alarmed and awestruck, but somehow the lack of dramatic twist or insight in Edge Of Darkness just serves to make the film coast along more tightly.
A lot of the film is handled extremely matter-of-factly, with only one memorably written character: a Londoner who makes things 'go away', played by the screen-seducing Ray Winstone. Portly, profound and elegiac, he's a pleasure to hear from. Danny Huston does well in his role, but the character and firm he represents -- and Gibson targets -- is too caricatured to seem like a real threat.
Edge Of Darkness is an all-Gibson experience. Looking older than his years, with thinning hair and wrinkles, Mel looks like a beleaguered and washed up version of Simon Cowell -- and that's a thought as sobering, as scary as can be.
The actor brings nuance to everyday gestures, investing acts of washing his face, looking into the mirror or drinking ginger ale with sheer melancholia. That, and he can still hold a gun better than any of today's young punks.
Rediff Rating: