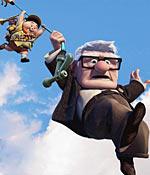 Surely, David slew Goliath as the little seen The Hurt Locker beat the box-office juggernaut Avatar soundly, winning six Oscars especially in the best film and best director category (Kathryn Bigelow, the ex-wife of Avatar's James Cameron).
But two other huge hits -- Up and The Blind Side -- won significant Oscars too, though small films dominated the scene. It was also for the first time a woman received an Oscar for direction.
Avatar is certainly a far bigger hit compared to Cameron's previous giant hit Titanic. Eleven years ago it grossed $1.8 billion worldwide; Avatar has taken $2.6 billion so far and could earn $150 millions more. But while Titanic earned 11 Oscars including in the best picture and director categories, this week Cameron's newest film could win just three, all in the technical departments.
Amidst  the spectacle of smaller films winning many Oscars -- the $7 million Crazy Heart winning two, one for Jeff Bridges (acting) and the $10 million Precious winning for best adapted screenplay and supporting actress (Moni'Que) -- one should not minimize the importance of the big hits Up and The Blind Side winning the coveted award.
The Pixar-Disney animation hit Up, which cost over $100 million and which has grossed $720 million worldwide, won the Oscar beating the well reviewed but underplaying pictures Coraline, Fantastic Mr. Fox, The Princess and the Frog and The Secret of Kells.
Up's victory gives Pixar Animation Studios, which was bought by the Walt Disney Co in 2006, an industry-leading five Oscars for animation since that award was first handed out in 2002, several news analysts pointed out.
The film about a curmudgeonly old man Carl, voiced by Ed Asner, and a young boy named Russell who fly off in a house tied to helium balloons, was released on DVD and Blu-ray over four months ago in North America. Its DVD sales reached an impressive $160 million by the first week of March; it is also doing solid business in rentals. With the Oscar win in the best film and best music category, its DVD/blu-ray sales worldwide could go up significantly.
The surprise hit of the year, the $35 million feel good movie The Blind Side about a black athlete succeeding against odds thanks partly to the help and encouragement he received from a white family, brought 46-year-old Sandra Bullock her first ever Oscar.
It is also the first time she has been nominated for it. She beat, most significantly the two time Oscar winner (Sophie's Choice, Cramer vs Cramer) Meryl Streep, 60,  who has lost the award 14 times since her first nomination in 1979. Though many reviewers consider her performance in Julie & Julia to be far superior to that of Bullock, the Oscar voters thought otherwise.
The Blind Side has grossed $250 million in North America, and could earn at least $10 million more thanks to the Oscar. It is opening in most major foreign in most territories just now. It has already become a hugely profitable film, with video and other ancillary rights could add many more millions.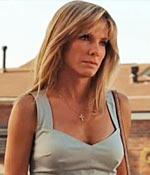 Bullock, who also co-produced the film and reportedly cut down her $10 million per movie fee by about 50 percent, is also going to make a lot of money.   
Avatar, which is still potent at the box office and took about $35 million worldwide this weekend, will continue to be a strong player despite its Oscar losses and the onslaught of the new 3-D film Alice in Wonderland which took over the weekend $210 million worldwide and knocked off Avatar from the pedestal after being there for 11 weeks.
But it is to be seen if The Hurt Locker, the intense and grim Iraq war drama, which has been selling in DVD/Blu-ray versions across the North America for over four weeks, will have a bounce. Its distributor Summit re-released the movie in some 250 theatres in North America last week, and saw a very modest gross of $450,000 bringing its total $14.5 million.
Summit might add a few hundred theatres on Friday but one can't be sure that a significant number of audiences will see. It has been shown in a few foreign countries and that means the Oscar win could give it a boost abroad.
The Oscar nominations in major categories had a little impact on Precious which was winding down at the time of the nominations and did not benefit for them. It has grossed $45 million in North America, and about $4 million abroad (most black-themed films don't do well outside of North America). And still those numbers are excellent for a film that cost just about $10 million.