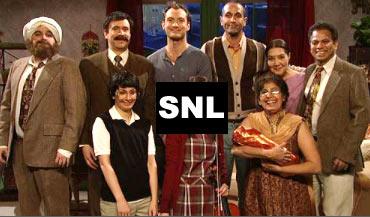 A Saturday Night Live skit called Talk Show with Ravish, which depicts a young Indian American who aspires to be a late night host like Jay Leno or David Letterman, is earning less than favourable reviews from many Indians in the blogosphere for its reliance on tired cliches and stereotypes.
The premise of the skit is that Ravish's family, upon hearing that Dave Letterman earns $30.5 million a year, has asked him to abandon his medical studies in order to focus on a career in Late Night entertainment.
Its most recent instalment, which ran on the March 13 edition of Saturday Night Live, featured Hollywood star Jude Law as Ravish's interview subject.
Stereotypes abound in the skit: Ravish and his family all speak in over-the-top Indian accents, much like the infamous Apu, of Simpson's fame.
Ravish and his sister are portrayed to be like drones and robots, only concerned with complicated mathematics and earning the highest marks in their schools. Their father is overbearing and a perfectionist.
Finally, inexplicably, there's a turban-wearing 'uncle' in the corner of the room, drinking beer and dancing Punjabi style.
As Ravish peppers him with finance-focused, drab questions in the 'interview', the bemused, half-hearted Law never really seems to get involved in the piece. Neither does the audience, which offers up a few smatters of laughter, but little more.
It's a shame, because Jude should know better. In 2007 the British actor and his then girlfriend Kim were took a romantic vacation to India, and were photographed taking in some of Rajasthan's historic sights.
Even more head-scratching is that, even after two decades of unprecedented gain for the Indian Americans in terms of public visibility, old 1980's cliches continue to define their space on television.