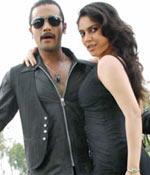 Neither the story nor the performances, not to mention debut direrctor Leykkhan's faith in numerology, could save the Kannada film, Sihigaali.
The film is a turnoff right from start to finish. What's worse, super melodramatic presentation of mother-son love, is outdated too.
What spoils things further is the lackluster performance by Tulasi, who plays Dharni's (Murali) mother.
The story goes like this: Our hero's dream is to build a house for his mother and he is seen working hard in the city to fulfill it. In the city he meets his lady love Jeevi (Shireen).
A few unimpressive songs and fight sequences later, Dharni tells his mother about Jeevi. Maa then comes to the city, meets the girl and her family and returns home mightily impressed.
Next, the understanding mother wants Dharni to buy a bike for Jeevi's convenience. After shedding tears and mouthing a few sentimental lines, Dharni is coaxed into buying one. There is still the house to be built but our hero is very sure of realising his dream. But the future is unpredictable and his life hits a roadblock when his mother passes away. A few scenes later you'll see a couple of people dying too. A serious waste of lives and of course, our time and money!
Sihigaali fails in the presentation department. The rough cuts between scenes don't go unnoticed. And surely Murali could have done with a better costume designer, especially for the songs. He looks like he is suffering from a bad hair day throughout the shoot. The film does nothing to maintain Murali's action hero image either. Even the special effects in the fight sequences fail to create the desired effect.
Dialogues, especially those between the just smitten Dharni and Jeevi, are too poetic to digest. Sharan, who plays Murali's friend, also fails to impress. Stale jokes find a place in the film and there is nothing even Sharan can do to make them sound funny.
Sihigalli is sure to give you a headache. Give it a miss.
Rediff Rating: