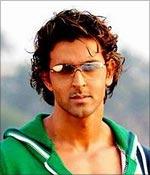 Hrithik Roshan has revealed quite a bit of what he has been up to.
According to his tweets, the actor has revealed that Krrish 2 is being planned.
Not only that, after singing a song for Kites (he confirmed the release date as May 21), he revealed that he has sung for Guzarish too.
As for his best cover, the gorgeous actor tweets that Femina trumps all because of wife "Sussanne's eyes, of course".