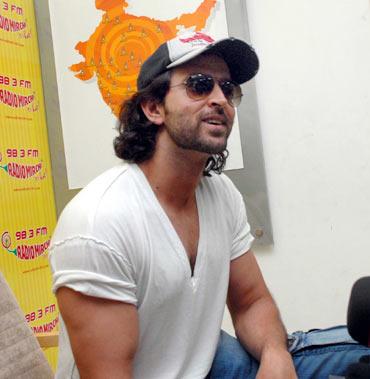 We all know actors get nervous during the release of their films.
But what we don't get is why Hrithik Roshan is nervous as his latest movie Kites is releasing on May 21.
But things became clearer when we chanced upon his tweets.
The thing is, the music of the film is releasing today, and hence the nervousness. More so as the actor has sung a song for the movie.
"I am embarrassed and nervous," he tweeted. "I want your feedback and once you have heard the CD b brutal (in your comments)," wrote Hrithik. 
Hrithik said he didn't want to lip sync and that's why he did it.
Hrithik is not the first actor to sing for films. Shah Rukh Khan, Aamir Khan and even Amitabh Bachchan have sung for their own films.
Photograph: Pradeep Bandekar