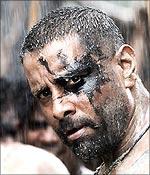 The wait is over.
Oscar-winner A R Rahman is back again, this time, joining hands with ace director Mani Ratnam to deliver one of 2010's most anticipated albums: Ravanan. Ever since Roja, the hype surrounding the two veterans has been intense, and it's culminated with Ravanan.
The Hindi version was released with much fanfare on April 24, while the Tamil version has quietly reached the stores on the May 5. With famed lyricist Kaviperararu Vairamuthu penning the songs, here's a look at what the album has to offer:
With strange and wonderful chants, grunts and groans starts Veera Veera, then to morph slowly into an enthusiastic, joyful celebration, rendered by Vijay Prakash with gay abandon, to the accompaniment of chickens clucking and other barnyard sounds. Its even better to listen to him sing "Ramanthein..." with the Southern lilt, while the background instrumental arrangement raises the song from just another peppy number to something with instant appeal. Even more intriguing is the blurring of lines between the characters of Rama and Ravana -- and that it's been written by Mani Ratnam and A R Rahman. It's brisk, catchy, and with Keerthi Sagathia and Mustafa Kutoane providing support, you're not quite prepared to let go of its freshness.
Almost like a king ascending his throne begins Usure Pogudhe -- slowly, exquisitely, taking its own time. Karthik begins melodiously, touching the right note of lament and longing. Though certain notes do remind you of another classic number, En Uyire, there are touches of beauty that cannot be denied. Of particular merit is the violin interlude: indescribably beautiful, and plumbing the depths of yearning. Vairamuthu is at his best here; the words complement the tune very well, telling of the hopeless anguish that accompanies a wish that cannot be fulfilled. Score one for the maestro.
Back to the faintly tribal feel that lines most of the numbers but Benny Dayal's Kodu Potta is far more ferocious, in-your-face and down to earth. It's men-of-the-soil vs the landlords; the lyrics are harsh, choppy as they're intended to be. The instrumental interlude has a distinct North Indian flavour to it, something that's compounded by the violin segment that follows later. Yes, it's appealing, particularly in the last moments when it rises to a towering crescendo but not in the instant fashion of the previous two. This number's principal attraction is its lyrics -- sharp, earthy, and rousing. 
Like a woman cackling madly begins Kattu Chirukki and its takes you a moment to understand Anuradha Sriram's affected singing (fortunately, the helpful lyric booklet assists in deciphering her words). Shankar Mahadevan is, thankfully, at his lucid best; he's clear and brings an emotion that's pleasant to listen (almost as if he's compensating). Melody-wise, here again, there's the faint trace of longing and touches of romance, aided amply by the lyrics.
Kalvare has a very different feel from the rest -- not just in the fact that its almost completely romantic, and doesn't have any of the ominous and earthy touches of the previous numbers, but also in its composition: its not colloquial, is softer and obviously indicates an existing romantic relationship. What can you say of Shreya Ghoshal's voice except that it's melodious, as usual? You get a sense of deja vu, as you listen to this number: snatches of Jodha Akbar's Jashn-e-Bahara, yes. The number is brief, and mildly appealing.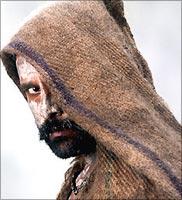 Back to the basics with a bang -- that's Benny Dhayal, Bhagyaraj, Rayhanah and Tanvi Shah ganging up to bring the thunderous Kedakkari. Perhaps this number's even more raw than the others; it's certainly an out-an-out celebration, but done with more swear-worthy references to gawking new husbands and rustic wives. Again, there's a distinctly North Indian flavour to the number. The beat, however, takes your mind off such things. It's not scintillating, but has its appeal.
Its always been said that an A R Rahman album takes more than a couple of listens to sink into and that holds good for Ravanan as well. The songs are geared more towards specific situations, emotions and characters; undoubtedly, their appeal is bound to the movie itself.
Nevertheless, the range and depth of the numbers do impress you on repeated listens. A couple of numbers, you feel, don't scale the heights of brilliance; the transmutation from Hindi to Thamizh is obvious, and rather jarring at moments.
But Rahman's brilliance in instrumental arrangement, choice of vocals and Vairamuthu's lyrics make up for it. It looks like Mani Ratnam has managed to shape a complex collection from his protege this time too. Go for it.
Rediff Rating: