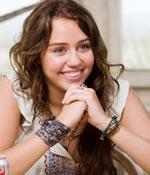 An oft repeated theme -- a rebellious young lady comes of age, sheds her obstinate ways and turns into a Good Samaritan overnight!
But obviously it sells and how. Being pitched as a teenage love story, The Last Song doesn't simply focus on romance. In true Nicholas Sparks fashion, he crams the story with melodrama, scenes of death-and despair, tragedy, arson, and more.
But negative emotions can't last. Finally good will triumph over evil. At the end of two hours you just wish Sparks had saved a few of the incidents for his next book.  
Miley Cyrus (Ronnie) along with her kid brother come to Georgia from New York to spend an entire summer with her estranged father Greg Kinnear. She's a talented pianist but refuses to play any more. Refuses to even consider going to one of the best music schools in the world although the admission is being handed to her on a platter.
Ronnie sulks, pouts and slams doors almost through the first few reels of film. Then she discovers Liam Hemsworth (Will). Just when Miley begins to feel the world is not such a bad place to be, she starts looking around her and realizes everybody is grappling with their own issues. Nothing is as simple as what it appears to be.  
What's really appealing about the film is the chemistry Miley shares with Liam. These two are a couple in real life too. They're good-looking, full of beans and their body language helps the film to go a long way. A few of the scenes especially the bits about them frolicking around in an aquarium or flinging mud on each other could have turned goofy but these two have succeeded in pulling it off with elan.
This duo might succeed in bringing a smile to your face but the person who really makes you laugh is Miley's kid brother Bobby Coleman (Jonah). He's a natural, has perfect comic timing and lights up the screen with his presence. No small achievement for a 12-year-old. And luckily for Bobby Coleman, he shares space with Greg Kinnear. Always an effortless actor, he has delivered a convincing performance as the empathetic and caring father who must allow his daughter to grow up on her own terms.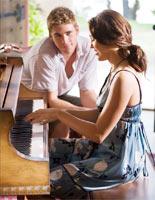 The other peripheral characters unfortunately don't add value to the film. Like Will's aristocratic parents who behave like they are royalty. Besides, why in every alternate film is the rich brat called Will, short for William? Something to think about. Or Kelly Preston who is completely wasted as Miley's mother Kim. She appears in a couple of scenes and looks pained. Probably because she didn't have much to do! 
The first half of the film is fine as it focuses on adolescent issues and not-so-nice kids who have their own devious ways of getting revenge. Under her surly exterior Miley is also a passionate human being. She spends a few nights on the beach trying to rescue the sea turtle eggs from being eaten up by a raccoon. Suddenly the kiddie stuff takes a backseat and serious problems crop up.
Death has been lurking around the corner. No, we will not tell you who is dying. But since The Last Song is based on a novel by Nicholas Sparks, one death is bound to come with the territory.  
It is to director Julie Anne Robinson's credit that despite the crammed screenplay, she manages to keep her audience involved. Dialogues are limp and fail to make an impact. The music is peppy and seems to be a big hit. Except for a brief sequence in a pick-up truck where Miley hums a few bars, she doesn't sing on screen.  
For all Miley Cyrus fans who have eagerly been waiting for this film, go for it. With this film Miley has proved she will effortlessly emerge as leading lady in the near future. Despite her not being a conventional size-zero beauty. 
For fans of romance, this movie served with dollops of mush is what you will enjoy.
But if tearjerkers aren't your first option it's best to stay away!
Rediff Rating: