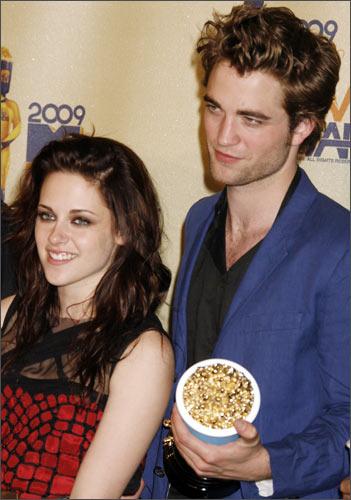 Twilight stars Robert Pattinson and Kristen Stewart confirmed that they're an item during the taping of an episode of The Oprah Winfrey Show, according to reports.
As per E! Online, the talk show queen managed to wring the confession out of the secretive pair, reports The New York Daily News.
Winfrey told the two she wouldn't press too hard on the dating question during the interview as long as 'they told her [off camera] what was really going on,' a source said.
'Obviously Oprah had to ask something during the taping, but agreed beforehand she wouldn't be too hard on [Rob and Kristen] if they told her what was really going on,' the source said.
'Both Rob and Kristen's people and [film studio] Summit then confirmed ahead of time [Rob and Kristen] are together and are dating. One hundred percent.'
Image: Twilight's Kristen Stewart and Robert Pattinson pose after winning MTV's Best Movie award
Photograph: Fred Prouser/Reuters