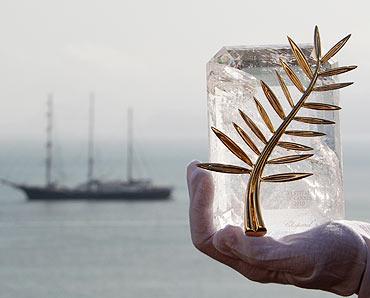 A six-member delegation from the Mumbai [ Images ] Film Festival, led by its director S Narayanan, will add some Indian masala to the 63rd Cannes [ Images ] Film Festival, one of international filmdom's oldest and most prestigious events.
The festival starts today in Cannes, France [ Images ], and continues till May 23rd.
The Indian delegation is on-hand at Cannes to choose from an appetizing array of international films to showcase at the upcoming 12th Mumbai Film Festival, set for October 21-28, 2010.
The Mumbai Film Festival is organised by the Mumbai Academy of Moving Image, a public trust chaired by Shyam Benegal [ Images ], which counts as trustees Ashutosh Gowariker [ Images ], Yash Chopra [ Images ], Jaya Bachchan, Amol Palekar, Shabana Azmi [ Images ], Amit Khanna, Karan Johar [ Images ] and Farhan Akhtar [ Images ].
In addition to its international and world cinema categories, the MFF awards showcases cinema from all over India [ Images ].
Image: A Chopard representative displays the Palme d'Or, the highest prize awarded to competing films, in Cannes on Tuesday. Photograph: Christian Hartmann/Reuters