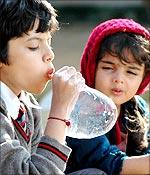 For once there will be no accusations of a story being lifted.
Priyadarshan's latest Bum Bum Bole is an 'official' adaptation of the award winning Iranian film Children of Heaven. With the screenplay firmly in place and a master director such as Priyadarshan at the helm, one would not be wrong to expect a sweet kiddie film which both entertains and enthralls. Unfortunately that doesn't happen.
Darsheel Safary (Pinu) is a 12-year-old who is being forced to grow up before his time as the family has fallen on bad times. One day as he runs around the village doing some errands for his parents, he misplaces his sister Zia's shoes which have just been repaired.
Pinu has off late been the target of his father's ire for no fault of his own. His dad (Atul Kulkarni) and his mother (Rituparna Sengupta) have both recently lost their jobs and the struggle for survival seems to be taking precedence over all other matters. The brother cajoles the sister into keeping quiet in the hope that he will get her a new pair of shoes at the earliest.
As their parents look at a long-term future where they must provide an education for their kids, Darsheel and Zia can only think about the day where Zia will get a new pair of shoes and their lives can return to normal. A great idea which could have been woven into an intriguing storyline! So where does the film go off track?
Right at the beginning! A couple of reels and you know the director wants you to weep copiously through the film. Unfortunately, such blatant manipulative efforts have the opposite effect. One feels distant and aloof instead of empathizing with the characters.
But the plot encompasses much more. There is an attempted rape, terrorists at large, the super rich living in palatial villas who have enough to eat but nobody to talk to, police officials who throw their weight around and pick up illiterate workers in the middle of the night. Phew! And then they have the audacity to call it a children's film.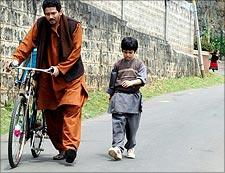 The film holds your interests in bits and pieces largely due to the performances by Darsheel and Atul Kulkarni. With his second film Darsheel proves he is here to stay. He uses his body, his eyes and his hands expressively. Great because if he had relied on the pithy, cliched dialogues -- which have been provided to him -- his performance would have bombed.
The film took a long time to make which can be judged merely by Darsheel's height. He looks kiddish in one sequence and a teenager in the next. Also he's wearing braces in a few scenes especially those in the second half of the film. A poor village kid with metal glinting in his mouth. Oh, how they love to insult our intelligence.
His sister Zia has a cherubic angelic face. The less said about her performance the better. Her lengthy dialogues rob her appearances of any spontaneity.
Atul Kulkarni is convincing as the father striving to keep his head above the water. Rituparna Sengupta needs to improve both her screechy dialogue delivery and her Hindi speaking abilities.
An interesting heart-warming character is Darsheel's school friend who comes late to school every day. He speaks with a deadpan face which had the audience laughing with him.
At some point one wonders who the real producer of the film is? An intelligent audience is aware of in-house sponsorship but here a well-known brand of shoes takes up as much screen space as the lead actors.
The second half of the film could have been chopped considerably and the climax stretches endlessly. Surprisingly in the climax too, the shoes seem to be the focus of the film not Darsheel. Let's hope this doesn't set a new trend in Bollywood.
The film is a must-watch for Darsheel fans but they must be prepared to suffer. And everybody else must keep away!
Rediff Rating: