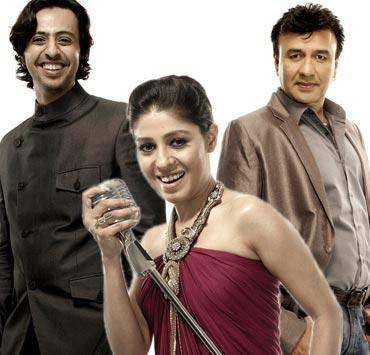 There is something about Indian Idol that keeps one glued to the TV sets. This season's show is no different.
The gala rounds that kicked off this week did justice to the audience expectations from the show. It was good, scintillating and entertaining at the same time.
Marking a change in its strategy, Indian Idol 5 will henceforth be telecast only on Mondays and Tuesdays instead of five days a week. While that will reduce the daily discussions over who will be in and who will bow out, the broadcasters hope to retain the same interest levels with teasers and campaigns.
The gala round started with the 13-participants being divided between Monday and Tuesday. The first day of the week saw Vishwas Rai, Yash Raj Kapil, Manisha Karmakar, Shivam Pathak, Tia Kar and Swaroop Khan performing, while Bhoomi Trivedi, Sreeramachandra, Rakesh Maini, Shashi Suman, Meghna Kumar, Naushad Ali and Arpita Khan sang on Tuesday.
The participants were asked to first talk about their idols (or role models) and then sing a song which would be connected to their idol in some way or the other. Little wonder that most contestants chose singers as their idols!
Monday's episode started off with an energetic performance by Vishwas Rai, whose idol is Sukhvinder Singh. Rai sang the title song from Chak De and managed to please everyone, including finicky judge, Anu Malik! The energy and zest with which he sang was truly exemplary.
Yash Raj, the next contestant in line, however didn't choose a celebrity as his idol. To him, his father was the man he wanted to follow. He sang Dil Kyun Yeh Mera from Kites. The highly romantic song, originally by KK, was not sung with the required 'feel' was what the judges felt.
Manisha Karmakar, the next contestant in queue, fared no better either. She was completely off key in her rendition of the Asha Bhosle number Kabhi Na Kabhi ... The song requires infectious energy, perfect rhythm sense and the playfulness of Asha Bhosle's voice. Manisha could no do justice to either and thus was warned by the judges to watch out and work harder.
But Shivam Pathak, the next one to sing, more than made up for his predecessors in the contest. He mesmerised everyone with his rendition of Tere Naina from My Name Is Khan. So happy were the judges with his performance that they publicly announced that Shivam had everything to become the next Indian Idol. Judge Sunidhi Chauhan even gave a nice nick name to Shivam -- Jerry Mouse!
Tia Kar, the girl who stopped a high flying career to participate in Indian Idol, announced Sunidhi Chauhan as her idol. However, she chose an Alka Yagnik number -- Kaisa Lagta Hain from Refugee -- for the gala round. Though she sang in tune, the overall effect failed to impress the judges. Anu Malik and Sunidhi Chauhan asked Tia to be more confident.
The last contestant for Monday was Swaroop Khan whose idol is Sourav Ganguly! He sang the title track of Kal Ho Na Ho and did justice to the number.
Day Two of the gala round started with Gujrati rapper Bhoomi Trivedi. The young girl looked dazzling as she sang Azma Le from Luck. The peppy number set to tune by Salim-Suleiman was sung with a lot of energy by Bhoomi. The judges were satisfied and said that they expected Bhoomi to be in the Top 5. Interestingly, Bhoomi's idol is Abhijeet Sawant -- the first Indian Idol and co-host (with Hussain Kuwajerwala) of this season.
Sreeramachandra, the Telugu playback singer, was next in line and did a marvelous job with Tu Hi Meri from Gangster. So thrilled was everyone with his rendition of the song, that he even won the best singer award for the first gala round and got a bike as gift!
A thoroughly entertaining guy, he also danced with host Hussain and enacted a few Michael Jackson dance moves. The usual drama of judges pretending to be angry at them dancing on a singing stage and then saying that it was a joke followed. Guess this has been repeated too many times in reality shows and have failed to make an impact.
Rakesh Maini, the young guy from Agra, sang Jabse Tere Naina from Sawariyaa. Unfortunately, he could not do justice to the song partly because Shaan had set a different benchmark with his original rendition and partly because he was nervous. Though the judges were encouraging in their feedback, they felt Rakesh started off on a very weak note.
The guy with the filmi story of leaving home to make a career in playback singing, Sashi Suman was next. He tried to do justice to Mere Piya Ghar Aya by Nusrat Fateh Ali Khan, but failed. Surprisingly Anu Malik was impressed.
The judges were also not too impressed with Megha Kumar's rendition of the golden Madan Mohan composition Lag Ja Gale. However, one feels the visually challenged girl did a wonderful job by staying in tune. Wonder what else the judges were expecting.
The last two singers -- Naushad Ali and Arpita Khan -- proved to be the best of the day. And, perhaps the first gala round as well. Arpita's range and control over her voice was amazing and the way she sang Neeyat Kharab Hain from Teen Patti left Sunidhi speechless! Naushad's rendition of Bol Na Halke Halke was also well appreciated by everyone.
Overall, the first gala round saw some high quality singing. The interesting point to be noted is that this time no one seems to be suffering from stage fright -- something that is common among first time participants. Perhaps this is an indication of how well prepared these contestants were for participating in a reality show!
Image: Judges Salim Merchant, Sunidhi Chauhan and Anu Malik.