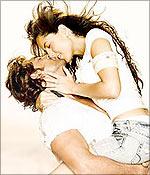 In Kites, Barbara Mori's character presents herself as Natasha, the well-heeled fiancee of a wealthy casino owner's son, Tony. In reality, however, she's Linda, an illegal immigrant from Mexico who's secretly romancing Tony for his money.
Basically, she's a really, really good-looking fraud.
It's tempting to say this of Kites itself, which despite its slick image and incredibly beautiful stars is not what it claims to be. It's not a great action movie. Not a great love story. Not even a noteworthy Indian contribution to global cinema.

It's sad, because Anurag Basu's long-awaited film clearly has potential. Buried beneath the melodrama is an interesting narrative set in an interesting place. Also, let's be clear, Kites looks amazing, and is very frequently visually arresting.
With less theatrics, some ruthless editing and a few tweaks to make the plot crisp and believable, it would be an enjoyable movie.

It will be interesting to see how Hollywood filmmaker Brett Ratner (Rush Hour, X-Man: The Last Stand) handled the 90 minute English "Brett Ratner Remix" of Kites, to release next week. Basu's gargantuan 130-minute original certainly gave him a lot to prune:
Countless close-ups of the hero, J (Hrithik Roshan), lip quivering, eyes welling up with tears. Repetitive, poorly executed action scenes. Drawn out songs. Languorous love sequences. And more slow-mo shots than should ever be allowed in one movie. It's painful.
Kites dawdles. It sighs. It meanders. The perpetual use of slowmotion is downright obnoxious, and gets worse as the film progresses.

Much of that slow motion is used to focus on our Adonis, Hrithik Roshan -- his rippled physique, disarming smile, captivating green eyes and penchant for emotion. In that way, Kites is like a really long underwear advertisement, with Mr Roshan our man in briefs.

Make no mistake: the film is all about Hrithik, an expose of sorts. Is he Hollywood ready? Will he ever take on the mantle of Bollywood's best, like SRK and Big B before him? Forget all that. Is he still a better lead than a younger actor like Shahid Kapoor?
No. No. Maybe.
Hrithik Roshan has looks, charisma and a tremendous on-screen presence. He's also a talented dancer, which means something here in India. In short, he should be the perfect leading man. The thing is: he overacts. A lot. In Kites, he nails a few scenes, but bungles many more, particularly the film's catastrophically bad ending.
But, overall, Hrithik is comfortable in this role, as the down-and-out yet still heroic J, and the part seems written especially for him.
J is an Indian-origin dance choreographer living in Las Vegas, who hustles on the side. One of his various scams is to exchange green cards for greenbacks; for a few hundred dollars, he marries immigrant women so they can legally stay in the US.

J's a dodgy, feckless guy at this point, palming money at bars and staying in a deplorable bachelor pad.
But, while still living the low life, he romances Gina (Kangna Ranaut), the daughter of one of the city's most powerful casino owners, Bob (Kabir Bedi). He even gets an exclusive invite to Bob's palatial home -- a taste of things to come, perhaps?

Then, just as he's all set to marry Gina and finally live the good life, Gina's brutish brother Tony (Nick Brown) shows up, with his beautiful, mysterious fiancee Natasha.
Alas, Natasha is actually Linda, one of the poor immigrants ushered into America by our hero J. Her father died when she was young, so she left her destitute family in rural Mexico, promising to return one day with wealth and splendour.
In fact, J and Linda are still legally married, thanks to their earlier shenanigans. Only now, with both of them on the verge of exorbitant wealth and lives of luxury, they begin their fatal romance.

It starts with J comforting Linda, the victim of Tony's abusiveness and narcissism. They communicate through a cute kind of sign-language. She speaks Spanish. He, Hindi and English.

Tony, ever the hot-head, gets upset. Murderously upset.

J and Linda run away to rural Southwestern America, and later to Mexico. Tony seeks vengeance.

Cue the aforementioned monotonous love songs and repetitive chase and shoot-out scenes, all of it climaxing in a truly cringe-inducing conclusion.
To be fair, Kites is not an irredeemable disaster.
Mercifully, there are very few dances, perhaps an effort to convince international audiences that Kites is a serious film. But, truth be told, part of Bollywood's appeal to Western audiences are the song-and-dance routines. Without them, somehow the film feels less Indian and more like a bad Hollywood action film with beautiful actors.

The back-and-forth time leaps work well enough, and manage to add some suspense, keeping the plot afloat for the first half.

Barbara Mori is quite good. Her character Linda is believable as the tough, fierce beauty, but also genuine and tender in her love for J. And their little back-and-forth language lessons produce a few light-hearted laughs.

But, overall, the language element is just odd. There's a fair amount of Spanish, for which subtitles are given in English. There's a lot of English, including a couple of soliloquies.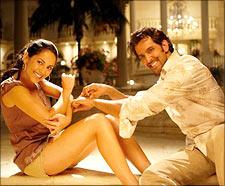 And then there's the Hindi, though it's never quite clear who speaks it and who doesn't. Are Gina, Bob and Tony, the casino owners, Indian? Sindhi or Sikh, perhaps? They speak Hindi, but have decidedly Westernised names, and appear to serve Western food at home. But other Western characters don't understand 'Indian', as the adorable Linda says.

Bad guy Tony, played by Australian Nick Brown, is laughably one-dimensional, motivated only by booze, lust and a thirst for power. Also, Brown's American accent sounds put on and annoying.
Same with the father, played by Kabir Bedi, who's essentially relegated to a background role, from where he utters commandments and threats. They're just sadistic, greedy people. That's it. To convince of their horror, Basu even tosses in a bizarre torture sequence inspired by Reservoir Dogs.

But the family's sway with police investigations is downright unrealistic. Tony repeatedly kills people, crimes which apparently aren't even investigated. He assaults suspects in full view of cops and overrides the police's decisions, but is never reprimanded.

Actually, the entire portrayal of life in the US is comical, inspired by a few too many cowboy flicks and gangster shoot-em-ups. The green card scam (11 wives?!?!), the saloon shoot-out (cops versus shotgun-wielding bandits?!?), the gangland-style, high-profile killings (1920s Chicago is long gone).

In a way, it's as if the US-based Kites and My Name Is Khan are Bollywood's payback for Hollywood's decades of mistreatment of India, most notable in Indiana Jones and the Temple of Doom.

Another negative is that, though we so much time with J, we leave knowing nothing about him, apart from all the theatrics and heroics and an impoverished childhood.

In the beginning of the story, he's aloof, petty and flippant. Later on, he's courageous and principled. But, aside from the 'power of love', there's no justification for his transformation, and it's entirely unbelievable. For a character so central to the story, the lack of detailing affects the second half of the film, because Jay's fate isn't as important to us as it should be.

But that's just me, one American's thoughts. I'm quite sure Kites will find success in India, though I'm curious to see how 'the aam-aadmi' responds to a film set in a place so far from home, with a non-Indian female lead.

Also, I expect the film to be generally well-received by reviewers in the US. The plot is sufficiently interesting and complex, with a distinct darkness and a foreign flavour. But, mostly, I think the critics will be influenced by the radiant Hrithik and Barbara.

Ultimately, like all frauds, a little bit of beauty makes the ruse easier to swallow.

Rediff Rating: