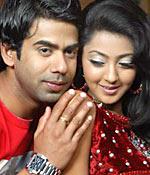 Nagathihalli Chandrashekar chooses recession as the backdrop for his love story
Nooru Janmaku
.
The Kannada film revolves around architects Vinyas (Santosh) and Drishti (Aindrita Ray). Vinyas starts his own firm after being sacked from his job. He and his cousin Hanumanthu (Sharan) start looking for a no-emotions-only-work right hand and the search ends with Drishti. The trio goes on to become a success and all is well until Vinyas breaks his own rule and starts developing feelings for Drishti.
Nooru Janmaku is not a one of its kind of movie and comes sans the
Nagathihalli
charm that we saw in
America America
and
Amrutadhare
. Neither the opulent settings nor Aindrita's restrained and convincing acting manage to save the film.
Barring the remixed version of
Nooru Janmaku,
Nooraru Janmaku
(borrowed from
America America
), Mano Murthy's music fails to impress.
Some of the scenes are unnecessarily stretched. And in the second half, the film doubles up as publicity material for a resort where a song has been shot and a luxury cruise, where the climax unfolds. These branding exercises contribute nothing to the script, which only adds to the length of the film.
Santosh, who is debuting as a protagonist with this film, is not bad, but has a long way to go. Singer Rajesh Krishnan has dubbed for Santosh, but the voice seems unsuitable.
Aindrita looks the part and does justice to her role. Adarsh Balakishna, who is pivotal to the script, is a face meant for the cameras. If only he had made better use of this opportunity. Sharan's comic timing makes you laugh in most parts. Actors Mandya Ramesh and Karibasavaiah have been wasted.
The true hero is cinematographer Santosh Pathaje. He has made magic with his camera, especially in the climax.
Nooru Janmaku
could have been an ideal family watch, but it is as dull as the recession.
Rediff Rating: