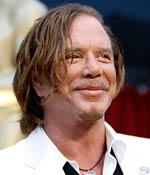 Iron man 2 star Mickey Rourke is all set to star in an English and Hindi advertising campaign for animal rights group PETA, to help sterilise stray dogs in India.
"Rourke was so moved when he learned about the dog and cat overpopulation crisis in India that he jumped at the chance to challenge people to get their animals sterilised," PETA said in a statement.
In the advertisement, Rourke, who was nominated for an Oscar for best actor for The Wrestler, will be seen wearing a pair of dark sunglasses and holding his dog called Jaws.
With the tag line, "Have the Balls to Fix Your Dog", the caption reads, "The more puppies born, the more dogs go homeless, because there just are not enough good homes".
"PETA urges everyone to follow Mickey Rourke's lead and always sterilise animal companions and support efforts to sterilise animals on the streets", said Madhuri Deshmukh, PETA India campaign coordinator. "If you're considering adding a dog or cat to your family, never buy, always adopt a homeless animal," she added.
In India, around 25 million homeless dogs struggle to survive on the streets. The majority of the street dogs are treated badly. "Many of them go hungry, are injured or killed in fights, are hit by vehicles or are abused by cruel people. Countless others are kept in animal shelters because there aren't enough good homes for them," PETA said.
The animal rights group is calling for all future cat or dog guardians to always get their animal companions sterilised. "Every time a dog or cat has a litter, it means fewer homes for the dogs and cats who are languishing in animals shelters or roaming the streets," PETA said.