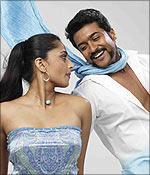 Director Hari wasn't joking when he said his third project with Suriya would be a complete action entertainer. As the kathiri summer draws to a close, arrives Studio Green and Sun Pictures' Singam (Lion) and make no mistake about it: it's the mother of all masala films. And none of the cast or crew makes any bones about it, which is perhaps its saving grace.
Not that it is apparent to you when the film opens with a bang (literally) -- lions roar, bullets sear the screen and before you get nervous, an imminent fire appears as Duraisingam aka Singam, blasting through the wilds of Nallur, Thoothukkudi, hot on the heels of a gang that's looted the village's temple jewels.
At once begins an action block that surpasses anything you've seen in Tamil cinema in recent times: Singam bashes the villains in slick, quick style (kudos to the stunt director; he's actually made it look interesting). Singam screams about rousing the lion in him and dispatches them swiftly, and just when you slink in your seat, afraid that it's going to be one long bash-fest, the director takes the reins firmly in his hands.
Turns out that Singam has no real interest in being a one-man fighting machine, or wearing the khaki uniform and bringing honours to his country. What he really wants, as he confides to Head Constable Erimalai (Vivek), is to run his family's provisions store and make it into a departmental store, maybe. He even promises Erimalai the job of packing provisions, if the local police station ever shuts down. And that's when you realize the director's skill in packaging some semblance of a story and characterization in this potpourri.
Make no mistake, though; Singam packs provisions only in his dreams. In reality, he's the upright sub-inspector who can't bear a wrong, has relations all over the village and punches (both verbally and physically) in the manner born.
Soon enough, the romantic lead arrives in the form of Kaavya (Anushka Shetty) daughter of a millionaire (Nasser), taking a vacation in Nallur. Singam runs into her one night as she wanders around the village in a tiger get-up (!) and ticks her off, much to her chagrin. But the "tiger" naturally falls for the lion though not, thankfully, at first sight, and Singam takes even longer to reciprocate her love. These are interesting scenes, even though the romantic track almost zips by you: the main story is yet to begin.
Which it does when Mayilvaganan (Prakashraj) makes an entrance into Singam's life. And this is where the story really starts.
You can forgive the rather meandering first half; as promised, the second half begins as a precursor to the climax. The cat-and-mouse game picks up pace and you're left gasping as one scene unfolds after another at breakneck speed. In between there's Kaavya again, providing some entertainment in cleavage-revealing dresses, to Devi Sri Prasad's songs (which, frankly, don't sound that good).
The last hour of the movie (even if it is involved) does give you your money's worth and more.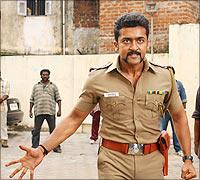 As far as acting chops go, it's Suriya, all the way. The man simply heaves and carries the film on his vary capable shoulders and straining biceps, as he screams, thrashes villains and threatens Prakashraj every alternate minute, long moustache in dutiful attendance.
What makes all the punch dialogues bearable is the sprinkling of humour, romance and the star's expressions throughout; you wish Suriya had been given more mileage there, but this is an action film after all.
And the entire crew: Priyan's camera, V T Vijayan's editing, with Hari, has made sure you note every muscle twitch, every vein stand out, during the star's performance. To give credit where it's due, Suriya does make it believable, most of the time. 
You only wish he didn't have to yell so much (how he saved his vocal chords is a mystery), and that the morphed-lion sequences didn't occur during every fisticuff. They remind you of the flick's masala status once too often.
You get a bit tired of Prakashraj's stuttering villain act, though. Here too, he stumbles all over the place, makes menacing phone calls and supposedly sets everyone, from the minister to the lowest man on the totem pole dancing to his tune except for a few moments when it looks like he does have a grain of intelligence. Still, it's hard to believe that all his bravado comes to nothing in front of a simple SI.
Anushka, thankfully, has more to do than just prance around in skimpy clothes (which she does very well). She romances dutifully, but her part picks up when both she and Suriya are in Chennai, tangling with villains.
Vivek, sadly, does little more than utter inane double entendre dialogues; the comedy track has little relevance to the story and hangs loose. You wish he got his act together soon.
Other minor characters do make an impression: Bose Venkat, an inspector, Vijaykumar, the minister, Radha Ravi as Suriya's father, the girl who plays Anushka's sister -- they all add colour to the proceedings.
A good deal of the credit for this action flick definitely goes to Hari -- this is no Saamy or Khaaka Khaaka, but the man manages to introduce some substance, amidst endless action. Sure, some twists and turns make your head reel but the loose ends are eventually tied.
Singam is an unapologetic, entertainer and has Suriya in every frame. Lovers of commercial potpourri will definitely get their money's worth.
Rediff Rating: