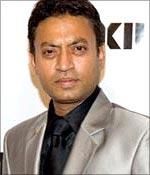 Looks like Irrfan Khan is really going places.
After rubbing shoulders with Angelina Jolie in A Mighty Heart and  starrng in the Oscar-winning movie Slumdog Millionaire, the actor is all set to appear in HBO's Emmy, Golden Globe, Writers Guild and Peabody Award-winning drama In Treatment.

Although Irrfan's role is kept under wraps, it is clear that he plays one of the patients of the series' lead character, Dr Paul Weston (played by Gabriel Byrne).

The show, which debuted in 2008, is based on the Israeli series "BeTipul" and is about a psychotherapist, Dr Paul Weston, and his weekly sessions with patients. The five-night-a-week series continued to hold audience's attention leading to a very scuccessful second season.

Now, the show is back with its third season which will premiere on October 25 in the US on Mondays and Tuesdays, with Byrne returning as Paul. Mondays will feature Irrfan Khan and Academy Award nominee Debra Winger as new patients.