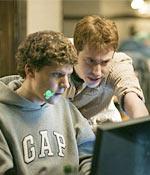 With some of the best reviews greeting it and an encouraging estimated $23 million weekend opening in North America,
The Social Network
has heated up the Oscar nomination buzz.
The gripping film -- which portrays Facebook co-founder Mark Zuckerberg as an aggressively manipulating business visionary -- is based on an international bestseller
The Accidental Billionaires
by
Ben Mezrich. The writer claims it is a fictionalized story of the Facebook founder.
The film joined the nomination race that includes recent Toronto International Film Festival favourites such as
The King's Speech
and
Black Swan
. Also considered nomination worthy are two huge box office hits
Toy Story 3
(with over $1 billion worldwide) and
Inception
(headed for $800 million plus run).
The Social Network, directed by David Fincher with a star-making turn by Jesse Eisenberg (Zombieland) as Zuckerberg in the founding days of Facebook, was made for about $40 million with about $100 million marked for prints and advertisements.
American box office observers expect the film to be a steady performer thanks to solid reviews and word of mouth, and reach the $100 million mark in North America alone.
'This is a movie you can't walk down the street without hearing people talking about it,' declared Sony distribution president Rory Bruer in a Hollywood Reporter interview as the Sunday numbers came out. 'It should permeate in the public consciousness for weeks to come for young and old alike.'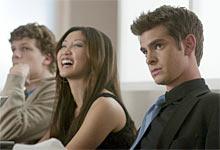 He added that Sony knew the movie was 'not going to open like a romantic comedy or an action adventure, but it's going to stay around longer.'
The film is based on a screenplay by Aaron Sorkin, best-known for the hit and award-winning television series, The West Wing.
Many people consider the film as Fincher's best work. His earlier hits have been Se7en, Panic Room and The Curious Case of Benjamin Button.
For anyone wondering if the film about a computer genius would be appealing, Sony offered through movie networks an intriguing summary: On a fall night in 2003, Harvard undergrad and computer programming genius Mark Zuckerberg sits down at his computer and heatedly begins working on a new idea. In a fury of blogging and programming, what begins in his dorm room soon becomes a global social network and a revolution in communication. A mere six years and 500 million friends later, Mark Zuckerberg is the youngest billionaire in history at 26. But for this entrepreneur, success leads to both personal and legal complications.
Critics from The New York Times to USA Today to Chicago Sun-Times found the film intriguing and a powerful social commentary.
Manohla Dargis of The Times pronounced it 'weirdly funny, exhilarating, alarming and fictionalised look at the man behind the social-media phenomenon.'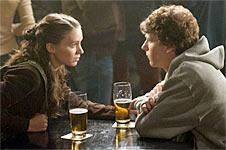 She added: 'Despite its insistently unsexy moving parts (software, algorithms), the movie is paced like a thriller, if one in which ideas, words and bank books blow up rather than cars. It's a resonant contemporary story…'
USS Today wrote that 'Sorkin's rapid-fire banter artfully blends comedy and tragedy.'
In Chicago Sun-Times, the influential citric Roger Ebert asserted that the film 'has the rare quality of being not only as smart as its brilliant hero, but in the same way.'
He added: 'It is cocksure, impatient, cold, exciting and instinctively perceptive. It hurtles through two hours of spellbinding dialogue. It makes an untellable story clear and fascinating. Fincher and his writer, Aaron Sorkin, are able to explain the Facebook phenomenon in terms we can immediately understand, which is the reason 500 million of us have signed up.'
If the early box office promise for The Social Network holds, it could sell some 25 million tickets worldwide, and that would mean only a small part of the 500 Facebook users would be seeing it in theatres, with millions waiting to see it on DVD and pay-TV. And yet the film would be one of more profitable ventures made this year.