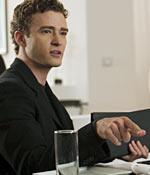 Aseem Chabbra review The Social Network.

An American friend told me this story. Another friend of his came home one night, drunk after a lot of hard partying, and started viewing profiles of blond girls on Facebook. Soon he was poking them (the most banal form of interaction on the social networking site). After he had poked nearly 50 blonds -- some known to him and others strangers, someone at Facebook woke up to what was happening. My friend's friend was blocked by Facebook.

It is a funny story, but also somewhat ironic since that is exactly how Facebook was started by a curly haired, Jewish American Harvard University undergrad, and a cocky genius Marc Zuckerberg.

As David Fincher shows in the opening sections of his brilliant and hugely entertaining film The Social Network, one night Zuckerberg (played with a sly, no-nonsense and uber confident charm by Jesse Eisenberg), did almost exactly that in an inebriated state. When his Boston University girlfriend (Mara Rooney, next playing Lisbeth Salander in Fincher's The Girl With the Dragon Tattoo) broke up with him, the arrogant, self-absorbed, and sexed-up nerd Zuckerberg (she called him an asshole and added that dating him was like being on a Stairmaster), with some help of his best friend Eduardo Saverin (British actor Andrew Garfield from the recent Never Let Me Go and now tapped as the next Spiderman) created a program that would rank downloaded images of all the female students in the various Harvard University dorms. It was not as bad as the Girls Gone Wild video series, but Zuckerberg was certainly not using his talent for a worthwhile project. Harvard authorities caught up with Zuckerberg accusing him of hacking and breaching the university's secure systems and he was placed on probation.

In a recent profile in The New Yorker -- clearly an attempt to whitewash the unflattering portrayal of Zuckerberg in Fincher's film, the creator of Facebook admits that he did many wrong things in 2003, when he was only 19 years.

Now he is 26 and Zuckerberg's company is said to be worth more than $20 billion. Facebook the social media site that changed the world (and certainly enhanced the way I live my life) has over 500 million members.

But there is a small issue of the young rich man's personality interpretations. The Zuckerberg that scriptwriter Aaron Sorkin (A Few Good Men, The American President and West Wing) and Fincher portray is an unsmiling, fast talking, and a not very friendly man. He is certainly not the charming person who was featured in a 60 Minutes episode with Leslie Stahl in 2008, or the gentle kinder billionaire who appeared last week on the Oprah show with Newark Mayor Cory Booker and announced a $100 million donation to the troubled city's school systems.

Fincher's film opened the New York Film Festival last week. It opens in theaters on October 1, with a massive pre-release Oscar buzz. Based on Ben Mezrich's recently published book -- The Accidental Billionaires: The Founding Of Facebook, A Tale of Sex, Money, Genius, and Betrayal and a riveting script by Sorkin, the darling of Hollywood and American television, The Social Network is not just a story about Zuckerberg and packed with details about how Facebook was born out of the dorms of Harvard -- the world of elite young who are made to believe that they will run the country. It is also a story of male friendships forged during the late teens and challenges that result in betrayal.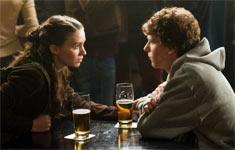 The year is 2003 and something is brewing at Harvard University that would eventually change the way 500 million people communicate with their friends today. Following the probation, as Zuckerberg's name spreads in the hallways and the courtyards at Harvard, he is approached by Cameron and Tyler Winklevoss -- twin brothers (played by one actor Armie Hammer) from the privileged town of Greenwich, Connecticut and rowing team members, who later represented the United States at the Beijing Olympics, and their Indian American friend Divya Narendra from Queens, New York (Max Minghella -- son of the late filmmaker Anthony Minghella) to design Harvard Connection -- a matchmaking site for the university. Zuckerberg stalls the project by sending unsubstantial emails to the three, while developing the prototype of what he eventually called The Facebook. He later drops "The" from the name of the company on advice of his mentor -- Napster co-founder Sean Parker (pop star Justin Timberlake).
Sorkin's script plays in the form of flashbacks as Zuckerberg is deposed for a lawsuit brought against him by the Winklevoss twins and Narendra. In a hilarious scene -- before filing the law suit, the three walk into the office of Harvard president Larry Summers, who was earlier President Clinton's Secretary of Treasury. The three young students believe Zuckerberg has broken some ethical law at Harvard, but Summers (a very funny Douglas Urbanski) dismisses them and their concerns.
At the same time Zuckerberg is also sued by Saverin -- who on paper was the CFO of the new company and put in its seed money of $19,000. Saverin continues to stay on the East Coast, while Zuckerberg drops out of Harvard and moves to California. Zuckerberg is a programming genius with little business sense. He slowly comes under the influence of the charismatic Parker and in the process Saverin is eased out of the operations of the company.
There should be no spoiler alert, since the outcome of the story can be Googled by anyone. The Winklevoss twins and Narendra are seeking more money from Zuckerberg after an initial settlement of $65 million. Saverin made a settlement for an unspecified amount. But in Sorkin's and Fincher's hands the film plays like a Shakespearean tragedy. Zuckerberg may be very wealthy now living with his long time Asian American girlfriend (that fact according to The New Yorker article, in contrast to the film where he is shown to have no luck with women), but nobody really wins this game in The Social Network -- well, other than the audience who are handsomely rewarded by this fine, exciting drama.
The film belongs to its lead performers Eisenberg, Garfield and Timberlake. They do a wonderful job playing not very likeable characters and yet for two hours we are glued to their world of intrigues, jealousies and deceptions.
Fincher has challenged and entertained us with creepy dramas about serial killers -- Seven, Zodiac (his most underrated and one of my all-time favorite films), testosterone packed slugfest Fight Club and overwrought emotional melodrama The Curious Case of Benjamin Button. With The Social Network he has matured into a great storyteller. There will be debates on how much of The Social Network is real -- not the facts, but the lead characters' personalities. But Fincher leads us into the inner chambers of these characters, a journey that will help us understand how we got here -- in this post-Facebook world.
Towards the end of the film Zuckerberg sends a friend request to someone he has lost touch with. He waits to see if the response will come soon. He then starts to refresh his browser, hoping to get a faster response. Anyone who has ever stared at his or her Facebook screen, hoping for a quick response from a friend, or reconnected with a long-lost childhood buddy on the site, will walk out of the theater with a smile.
Rediff Rating: