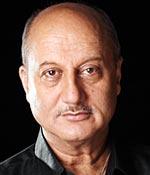 Anupam Kher tells us about his new role. And no, it's not a filmi one.

Anupam Kher, whose career spans nearly 400 films and over 100 plays, has been appointed the goodwill ambassador of the Pratham Education Foundation, which strives to improve children's education in India.

The actor claims that the new role is tailor-made for him as he has always been drawn to the cause of children's education, which was what led him to found his own School of Life Programme.

Kher, who has been travelling across the United States for the past few weeks and has already visited New Jersey, Dallas, Houston, Chicago, Raleigh, North Carolina, Charleston, South Carolina, Boston, Washington DC and New York, said, "I am certain a lot of synergy will be unleashed in being appointed goodwill ambassador for Pratham and in leveraging my media image. By becoming Pratham's public face, I hope to augment in its fund-raising, capacity enhancement and other initiatives dedicated to the cause of children's education."

Madhav Chavan, CEO of the Pratham Education Foundation, in announcing Kher's appointment, said, "While Anupam's accomplishments as an actor are well known, it is his determination to use his eminence to help India's children go to school and learn well, that has led to his appointment as the Pratham Goodwill Ambassador. I hope he can help spotlight the key issues concerning education and help Pratham achieve its mission of 'every child in school and learning well.'"
He added that Kher would also be hosting Pratham's informative television programme called Angrezi OK Please.
Kher took over Pratham's envoy from Waheeda Rahman, who was Pratham's Goodwill Ambassador for two years. And it was she who persuaded him to take over 'this labour of love' from her.
"I have been working with children for the last 15 years and have even been a teacher for mentally challenged children in special schools. I had attended some fund-raising events for Pratham too when Waheedaji was the brand ambassador," Kher said. "I think when they asked Waheedaji who should take over she had suggested my name because she was familiar with my work with children and had interacted with me in this work and knew my passion for it."
Kher said that Angrezi OK Please was a TV series to "teach slum children, or the poor and unprivileged children a basic knowledge of speaking in English. It's got a game show kind of format and it's a very interesting concept, where kids learn to speak basic English while playing a game. We feature children along with their parents -- who are basically working class parents."
The show, Kher says, is ready to go on air. Thirteen episodes have been shot, and it's waiting for a channel to pick it up and telecast it weekly.
"There a lot of people -- and I don't hold anything against them -- who are brand ambassadors of expensive watches, cars, suitings, and get millions of rupees for doing that, which is very fine and okay with me," Kher said. "But I believe it's a great service if I am a brand ambassador where I won't get paid anything but at least through me, I get to help in the education of children. For me, it's the greatest reward I can ask for because in some small way, I am making a difference in the lives of these children, and in the process making a difference in my life."
He said his work for Pratham is not for any fixed period of time, but open-ended, as long as they need him. "They have not told me any terms and neither do I worry about that. I will continue to work with them even if I am not the ambassador and I'll also be working to develop my own foundation. But as long as we are doing the similar kind of work that is going to benefit children, whether you are an ambassador or not doesn't make a difference," he says.
Kher hopes to visit the US regularly on behalf of Pratham on fund-raising tours.
Describing what he has been doing thus far in his role as goodwill ambassador, he said, "Basically it's interacting with people because since my association is cinema, they recognise me. So my face helps in bringing awareness. It's a face, which sort of people listen to and because I speak with compassion and speak what I believe in, it becomes easier for me to change the mind-set of people and encourage those who are already involved to do even more.
"I am not like a serious person who has come to make serious speeches and lecture them about the abject poverty of India or how India is illiterate and things like that," he added. "Sometimes people feel uncomfortable if you lecture them. They want to give but with joy, and without feeling guilty. They want to give with a sense of spontaneity and I believe I bring that in them.
"So I motivate them because I am a motivational speaker. I've been speaking at the Kellogg School of Business on this trip, the Illinois Institute of Management, University of Maryland, Cambridge in England and at the IIT's in India," he added.
"While speaking on a motivational level, I bring Pratham in and why it is important that they help in alleviating the lot of these underprivileged children and why contributing to the cause is important. Unlike the branding of watches or whatever for commercial purposes like some people do, here I am dealing with emotions and not products. Everybody has those emotions, I just need to tap them."
Kher said he would also travel across India on behalf of Pratham and work in concert with his own foundation, "But right now I don't want to eat into the money that we will raise for Pratham. I will have plenty of time for my organisation since it's only two years old."
He added that he had a two-acre plot of land in Karjat, near Mumbai, which he had bought several years ago to build himself a weekend retreat. But he had never gotten around to building it. "Now I will use that land to build a home for the homeless children," he said.
Pratham was founded in the slums of Mumbai in 1994, with UNICEF support. Today, Pratham's urban programmes, including pre-schools, community libraries and remedial learning programmes reach hundreds of thousands of children every year.
In 2007, with the support of the William and Flora Hewlett Foundation, Pratham launched the Read India campaign -- an innovative, low-cost effort to reach more than 100 million children who cannot read, write or do basic mathematics. With the continued support of the Hewlett Foundation in 2010, the Read India campaign has now entered its second phase, focusing its attention at the village level and teaching more advanced learning skills.
Pratham's Annual Status of Education Report evaluates India's status of education through direct testing of over 700,000 children in 16,000 villages across India. ASER is the only annual measurement of basic literacy and numeracy conducted at scale in India today and its widespread dissemination has helped focus government attention on the issue of learning. To support newly literate children across India, Pratham books has developed and published over 130 titles and printed over three million children's books in local Indian languages.
Over the years, Pratham's programmes -- which operate with an annual budget of less than $15 million -- have been recognised internationally for their innovation and impact. Recently, Pratham won the CNN-IBN Indian of the Year Award in the public service category and the Henry R Kravis Leadership Prize. Pratham USA, has a four-star rating -- the highest possible, from Charity Navigator.