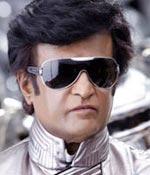 Endhiran/ Robot stands at either number one or number four in the world its first weekend, depending on who is talking. The producers of the film have not released official figures. About 75 percent of the film's grosses came from the Tamil and Telugu versions, according to trade observers.

On the high end, the film grossed $21 million in India (and an estimated $3 million outside India) as claimed by trade analyst Komal Nahta. On the low end, it made $12.4 million (with additional $3 million from overseas territories) as claimed by boxofficeindia.com

If Nahta's calculator is right, the film -- which was showing in some 2,100 screens worldwide -- was certainly the number one film of the world. It beat Resident Evil: Afterlife, which grossed $18 million on 6,000 screens worldwide, according to The-Numbers.com. It totaled to $280 million in its fifth week. The film was made for $50 million and is expected to end its run with $300 million.

The Chinese film Detective Dee: Mystery Of The Phantom Flame opened with $16.42 million on 650 screens in four markets, as per The-Numbers.com. Most of its collections came from China.
Julia Robert's Eat Pray Love, which was partly shot in India, was at third place with $15 million on 4,000 screens in 32 markets for a total of $120 million. It still has a lot of fuel going for it.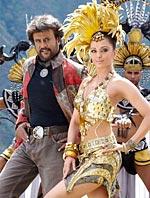 Whether the first estimate for Endhiran would prove to be right or the second one, one thing is clear: The film, which was made for about $31 million (and a reported $10 million for print and promotion), better have sturdy legs in the next three or four weeks.
For most Indian films, even the hits generally tumble by about 50 percent in the second week. The producers and distributes of a film get about 50 percent of its box office worldwide after paying rent to theatres. In India, the entertainment tax also takes out some 35 percent of the gross.
By conservative estimate, Endhiran has to gross about $70 million to break even.
The producers of the film have reportedly recovered their investment because of the sale of the ancillary rights such as television licensing fee and the high fee it has been sold. But the distributors will have to depend solely on the box office returns to recover their investment.
For sheer numbers, it will have to go a long way before it beats the worldwide gross of Aamir Khan's 3 Idiots (reportedly $55 million) and Shah Rukh Khan's My Name Is Khan (around $55 million).
Setting a huge recording for a Tamil film, Endhiran grossed over its first weekend an estimated $1.56 million in North America. But it could not topple the $1.7 million record weekend gross of 3 Idiots, which earned more than $6 million becoming the highest grossing Indian film in North America.
While the Rajnikanth film, which was showing in 139 theatres in North America, is the toast of the town, the romantic film Anjaana Anjaani had a decent opening. It grossed $517,000 in 91 theatres.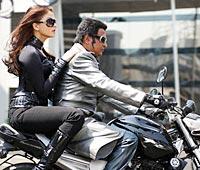 In the UK, Endhiran/Robot grossed about $467,000 in 30 theatres. The film reportedly grossed about $800,000 in Malaysia and Singapore.
"This is an awesome gross for any Indian film, particularly a Tamil film," said a distributor in New York who asked not to be named. "But people forget a number of theatres doubled the admission price for many shows to $25, some even charged $40 which would be more than the IMAX admission price for Avatar."
Robot became the bigger weekend opening film in North America and India not only for Rajnikanth but also Aishwarya Rai Bachchan.
Many diehard Rajnikanth fans at universities, even those who have just started their studies and have to watch out for every penny spent, saw the film mostly on Friday or Saturday. Several newly migrated students from Tamil Nadu  and other southern states,  especially those enrolled at the New Jersey Institute of  Technology, said they did not feel homesick for many days, in anticipation of seeing Robot.
According to Endhiran/Robot distributor in North America, it took $170,000 for the Hindi version (39 locations), $330,000 (Telugu, 33 locations) while the Tamil version grossed $1.1 million at 64 venues.
Many young viewers, who said they would have loved to see it the second time in the opening weekend, also confessed that they would be seeing it again after two weeks when the admission rates would be the standard $10.