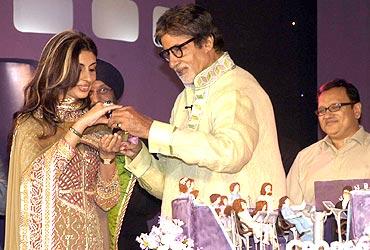 Sukanya Verma reviews Kaun Banega Crorepati 4. Follow KBC 4 here

'Computerji (Mahashay, if you please), lock kiya jaaye.' 'Mann mein sankoch ho to lifeline ka prayog kijiye.'

The man with the towering baritone and flawless Hindi enunciation is back as the third-time host of popular game show, Kaun Banega Crorepati now entering its fourth season. The previous edition featured Shah Rukh Khan lending his brand and personality to the show, which met with mixed responses.

Other than its familiar and beloved host Amitabh Bachchan, the new KBC features considerable changes in its format. The prize sum has been raised to    5 crore while the quiz questions have been reduced to 12 as opposed to the earlier 15. There's also a time limit (Ghadiyal babu) for the initial few questions as well as the inclusion of a brand new help-line called phone-a-expert, namely cricket specialist, Charu Sharma for its first episode.

Understandably, since the show launched itself on Big B's 68th birthday -- October 11, there is an air of festivity and celebration beginning with a montage of Big B's iconic scenes after which he obliged the audience in the studio and off it with a crisp recital of his poet father Harivanshrai Bachchan's poem, Jeevan ki aapadhaapi mein kab waqt mila kuch der kahin per baith kabhi yeh soch sakoon against a rather bizarre zen-inspired set (designed by Nitin Desai) with a bunch of semi-clad models holding candles, followed by a rendition of Sahir Ludhianvi's Kabhi kabhie and then some heavy-duty punch-liners from Agneepath and Deewar only to finally break into a fancy jig to the remixed versions of Khaike paan Benareswala (Don) and Pag ghungroo (Namak Halal).

Soon enough, AB gets down to business, looking sharp in a charcoal gray pinstriped suit and aqua green tie as he confidently and enthusiastically introduces this season's first 10 star-struck participants to everyone. Instead of a quickie who's who, Bachchan engages in a warm exchange with each and every player and seems genuinely interested in interacting with these equally sincere and jovial contestants.

The fastest fingers first round leads to Jheemar, Madhya Pradesh's Rajesh Chauhan landing on the much-coveted hot seat. Chauhan who runs a grocery store has been trying to take part in KBC for the last 10 years (except the season when SRK played host as he point out with poker faced earnestness) ever since the show kick-started in 2000.

If Big B's presence was luminous enough, KBC offered a surprise in the form of Chauhan's other favourite idol -- Sanjay Dutt's supportive presence (he's mostly there to plug his upcoming release, Knock Out). Honestly, with Bachchan around, KBC needs no other USPs.

After hitting bull's eye with answers like 'Nagpur is Orange City' and 'In Peepli [Live], a song refers to Mehengai as Dayan,' Chauhan, a rather noble, generous guy, eventually ends up securing a reasonable    3, 20000.

That's the beauty of KBC, whether it's aired on Star Plus or Sony TV, it carries a lot of heart, wherein AB as well as the viewers join in to root for complete strangers. In an era of sensationalist hosts and nasty judges, not only does Bachchan appears comfortable enjoying the key elements of the show -- quizzing, interacting, conversing but appears thoroughly delighted and, alternatively, disappointed when a contestant does or doesn't do well. It's infectious. And so is KBC.


Rediff Rating:

Image: Amitabh Bachchan feeds daughter Shweta a piece of his birthday cake on the sets of KBC 4.
Photograph: Pradeep Bandekar