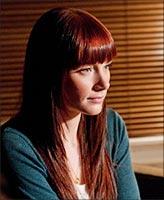 Arthur J Pais reviews Clint Eastwood's Hereafter.
The first few minutes of Clint Eastwood's deeply felt and intriguing meditation on the dangers of trying to connect with the dead family members moves at such breakneck speed that you expect the entire
Hereafter
to be one rollercoaster ride. But one quickly realises Eastwood is no more making films that are reminiscent of his
Dirty Harry
hits of the 1970s (he did not direct those films, though.)
For what follows the awesome tsunami reenactment at the beginning is a narration that is very much on the lines of the films he has been making in the last 20 years. In films such as
Million Dollar Baby
and
Mystic River
, the film-maker and composer who is 80 looked into the souls of deeply conflicted individuals in a leisurely way.
Hereafter
joins that impressive list of nearly a dozen films that are contemplative and gripping at the same time.
But its contrived ending reduces its overall achievement to an extent.

The film which opens in half a dozen theaters in America on Friday is going to add more theaters as critical acclaim and word of mouth makes it a commercially attractive product. True, it has Matt Damon in the lead as a psychic who does not want to use his expertise and yet drawn into doing so from time to time. But Damon, who gives a powerful performance, cannot open every film big.

(Bollywood copycats might find the film irresistible and a big 'inspiration;. It has a failed romance, a kid who is desperate to connect with his twin killed in an accident, a hero who is afraid to use his psychic gifts ... There is tension, suspense, melodrama -- and a happy ending. What is missing is a score by Pritam or Shantanu Moitra)

Hereafter, which is set in a Southeast Asian country, America, France and the United Kingdom, is partly in French. But the subtitles are not really a distraction thanks to the slow moving but dramatic scenes enhanced by crisp and atmospheric visuals, and a fabulous musical score (by Eastwood)..

Whether one believes in afterlife or not, the stories of people eaten by self doubts and overwhelming desires, cast their spell from the very beginning.

Damon plays George, a lonely San Francisco man who finding his rare ability to hear dead people a huge burden gives up on the lucrative practice as a psychic and takes up a blue collar job. He spurns repeated requests from his brother to resume the old career.

His suspicion that connecting with the dead could cause trouble comes alive when Melanie (Bryce Dallas Howard) begs him to connect her with her father. His plea for forgiveness jolts her memory; her long suppressed secret revealed through George, she walks out of his apartment, ending the prospects of a romance.

French journalist Marie (Cecile de France, a Belgian actress who gives a solid performance) who narrowly survives a tsunami while vacationing with her married boyfriend, Didier (Thierry Neuvic) cannot put her near-death experience behind her. Her obsession costs her job but the journey she has embarked on brings her an unexpected reward. Her book on paranormal life is bought by an American publisher, and she arrives in London to promote it at a book fair.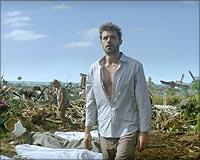 George, in the meanwhile, has lost his blue collar job, and seeks out a sojourn in London to pursue his interest in Charles Dickens, his favourite novelist.

A chance meeting brings George into contact with Marcus who through his Google search knows George's psychic abilities. After having tried to connect his brother through others who claim to be psychics but who are apparently frauds, he follows George -- and will not leave him till he is connected to his brother.

This sequence in the film is its most stirring episodes as written by Peter Morgan and deftly directed by Eastwood. The episode also reveals the secret behind what had earlier looked like a miraculous escape from a train explosion.

Marcus, who learns an important life lesson from the encounter with his brother, gives a gift to George that brings a big smile on the faces of audiences

Hereafter has the potential to be a sleeper hit. While many big budget films run out of steam in the fourth or fifth week, Hereafter which cost a comparatively modest $60-$65 million could be very much around when the Best 10 films of the year lists are made.

As one walks out of the theater, one realises -- and not for the first time -- a slow-moving film can also be a compelling piece of art.

Rediff Rating: