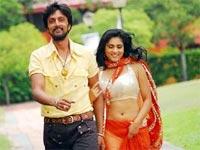 Shruti Indira Lakshminarayana reviews the Kannada film, Kiccha Huccha.
Sudeep teams up with director Gurudut in this week's other big Kannada release --
Kiccha Huccha
. The much delayed film also stars Ramya in the lead.
Kiccha (Sudeep) works as the henchman of a local goon. The goon has a soft corner for the rough and tough Kiccha as he  saved the life of his son. While Kiccha manages to provide a better lifestyle to his mother and sister, his 'job' profile is not something he is proud of.
The entry of Aishu, (Ramya) an upright and independent thinking girl into his life further makes him aware of his wrong doings. Kiccha goes on to give up his shady dealings and is all set to start a new chapter in his life by marrying Aishu when his lady love finds him being picked from a brothel.
Kiccha Huccha
has both action and sentiments but neither of these make leaves you satisfied as there is nothing new in this love story.
Also while fights are mostly a one man show and villains are reduced to punching bags, the family sentiments are very
filmi
.
The saving grace is however the chemistry between the lead pair. Both Ramya and Sudeep come out with good performances and that's all the film can boast about.
Often you find yourself cursing the interruption of songs but here you find yourself waiting for them hoping they could at least pep up the film. But barring
Nudisale...a
romantic number and
Kamali...
a stylishly shot number, none leave an impact. Even an item song in which Bianca Desai appears is no great shakes.
While Hariskrishna scores with his music in his week's other release
Jackie
, he fails to impress here.
Gurudut gets his idea of comic relief -- very little of which there is in the film -- wrong too. His 'I live to eat' character fails to tickle your funny bone. Dialogues lack punch as well.
The film comes with a message that things can go awfully wrong if you don't speak your mind.
Watch this one if you must for the lead pair and only if you haven't seen the original Chithiram Pesudadi. 
Rediff Rating: